Mayoral Candidate Slain In Russian Far East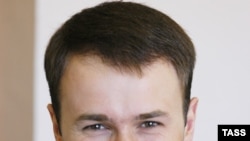 Dmitry Fotyanov (ITAR-TASS) October 19, 2006 -- Dmitry Fotyanov, a candidate for mayor in the far eastern Russian town of Dalnegorsk, was shot dead today, three days before he was to compete in a runoff election.
Police found two Kalashnikovs with silencers in a nearby car after the shooting.
A minivan also exploded outside the office of a local newspaper "Trudovoye delo."
(ITAR-TASS, AFP)