U.S. Reviews Baghdad Strategy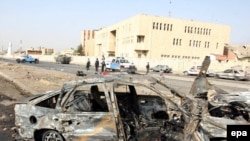 Wreckage of a car at bombing site in Mosul on October 19 (epa) October 20, 2006 -- At least 38 people were killed in fresh violence across Iraq on October 19, as the U.S. military says it is reviewing strategy in Baghdad, where U.S. reinforcements have failed to halt the spiraling violence.
Car bombs, mortar fire, and shootings in the cities of Mosul, Kirkuk, and Khalis killed civilians and security forces.
"We are obviously very concerned about what we're seeing in the city," said Major General William Caldwell, a spokesman for the U.S.-led coalition in Iraq.
"We're taking a lot of time to go back and look at the whole Baghdad security plan. We are asking ourselves if the conditions under which it was first devised and planned still exist today or have the conditions changed and, therefore, modifications to that plan need to be made," he added.
The U.S. military says attacks have increased by 20 percent in the past three weeks in the Iraqi capital.
Seventy-one U.S. soldiers have been killed in Iraq this month, one of the worst for U.S. forces since the March 2003 invasion.
(Reuters, AP)

SUBSCRIBE For weekly news and analysis on Iraq by e-mail,
subscribe to "RFE/RL Iraq Report."