Iran Reportedly Stepping Up Nuclear Program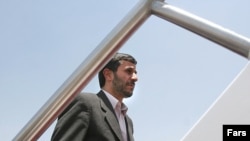 Iranian President Mahmud Ahmadinejad has promised not to budge "an inch" in the face of international pressure (file photo) (Fars) October 25, 2006 -- Iran has reportedly expanded its controversial nuclear work by starting a second series of centrifuges to enrich uranium.
An unnamed Iranian official has told Iran's ISNA news agency that gas will be injected into the cascade this week.
There has been no official confirmation from Tehran.
The reported move comes as Western powers are discussing the draft of a UN resolution in reaction to Iran's refusal to suspend uranium enrichment.
Enriched uranium can be used as fuel for civilian nuclear reactors but it can also be used for producing nuclear bombs.
(ISNA, AP, dpa)


THE COMPLETE PICTURE: RFE/RL's complete coverage of controversy surrounding Iran's nuclear program.
CHRONOLOGY
An
annotated timeline
of Iran's nuclear program.