News reports from Afghanistan quote officials and tribal elders in southern Kandahar Province as saying indiscriminate NATO air strikes killed scores of civilians on October 24. The number of alleged casualties varies between 50 and 90, including women and children.
The deaths reportedly occurred on the second of three days of holidays marking the end of the Holy month of Ramadan.
NATO said in a statement issued on October 25 that its International Security Assistance Force (ISAF) had received what it called "credible reports" that several civilians were killed during heavy fighting in Kandahar Province's Panjwayi district.
The statement said ISAF could only confirm that four civilians were wounded while approaching an ISAF patrol and that NATO "deeply regrets any civilian casualty caused."
NATO later accused the Taliban of using civilians as human shields, but said it was working with Afghan authorities to determine the number of civilian casualties.
The force said 48 Taliban were killed in three engagements, including air strikes, in Kandahar Province on October 24.
(AFP)
The Afghan Insurgency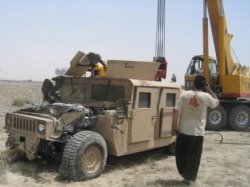 A U.S. military vehicle damaged by insurgents near Kandahar (epa)
HOMEGROWN OR IMPORTED? As attacks against Afghan and international forces continue relentlessly, RFE/RL hosted a briefing to discuss the nature of the Afghan insurgency. The discussion featured Marvin Weinbaum, professor emeritus of political science at the University of Illinois at Urbana-Champaign, and RFE/RL Afghanistan analyst Amin Tarzi.
LISTEN
Listen to the entire briefing (about 83 minutes):
Real Audio
Windows Media
ARCHIVE
RFE/RL's
coverage of Afghanistan
.
SUBSCRIBE
For weekly news and analysis on Afghanistan by e-mail,
subscribe to "RFE/RL Afghanistan Report."