A spokesman for the alliance, Major Luke Knittig, today said some 100 to 150 militants attacked the base north of Tarin Kowt, in Oruzgan Province. NATO and Afghan troops fought back for several hours with small-arms fire, attack helicopters, and air strikes.
Knittig said one Afghan soldier was wounded in the fighting. The death toll of 70 militants could not be independently verified.
In a separate attack in Oruzgan Province, NATO says a roadside blast killed one of its soldiers and wounded eight others. Three civilians were injured. The nationalities of the slain and wounded soldiers were not disclosed.
More Civilian Casualties
The fighting comes amid the worst upsurge in violence since the Taliban regime was ousted in a U.S.-led invasion in late 2001.
It also comes after a week of intense controversy after an errant NATO air strike early last week in southern Afghanistan. NATO says the strike killed 12 civilians, but some witnesses say up to 60 people were killed.
NATO's supreme commander, U.S. Marine General James Jones, met with Afghan President Hamid Karzai on October 28 in Kabul to personally apologize for the incident.
"I personally apologized for the incident, for any loss of life, I expressed my concern to President Karzai this morning," Jones later told reporters. "We take this very seriously, we will look into it, and we will always do whatever we can to minimize any innocent people being victimized in any way by military activities."
Jones went on to blame the incident on simple confusion resulting from the "fog of war."
Jones added that early indications were that movement across the border with Pakistan by militants had increased, despite recent agreements aimed at halting such crossings.
Troop Concerns, Controversy
He also said the alliance's Afghan forces still did not yet have enough troops and appealed for countries to allow more flexibility in deployment. Some NATO countries, such as Germany, have been criticized for keeping the bulk of their troops in the relatively safe north when most of the fighting is in the south.
However, in a new book due published on October 28, Italian Foreign Minister Massimo D'Alema strongly criticized Washington for the worsening peacekeeping effort in Afghanistan.
He said the United States had concentrated too much of its military efforts on Iraq and not enough on Afghanistan. He also said U.S. political and economic strategy in Afghanistan had largely failed.
According to excerpts from the book, D'Alema said Italy's roughly 1,300 troops will remain in Afghanistan. But he called for an international conference among NATO members, the United Nations, and Afghanistan's neighbors to discuss the mission.
Opium In Afghanistan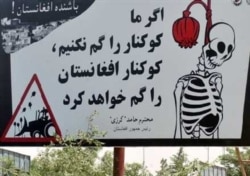 An antidrug billboard in Kabul shows a skeleton hanging from an opium bulb (AFP)
OPIUM FARMING ON THE RISE Despite a nationwide program by the Afghan government to eradicate opium-poppy fields and offer farmers alternative crops, international experts say that the 2006 opium crop will be as much as 40 percent larger than the previous year's. Afghanistan is the largest producer of opium in the world, and the source of as much as 90 percent of Europe's heroin.(more)
RELATED ARTICLES
Narcotics Supply Reduced, But Afghanistan Still Suffering
Saffron Could Help Wean Farmers Off Opium Poppies
Poppy-Eradication Drive Launched In Western Province
Insurgency Gains Ground As Poppy-Eradication Efforts Struggle
UN Drug Agency Promotes 'Alternative Development' For Curbing Poppy Cultivation
SUBSCRIBE
For weekly news and analysis on Afghanistan by e-mail,
subscribe to "RFE/RL Afghanistan Report."