It's not the first time during the recent Moscow-Tbilisi standoff that Putin has evoked the image of Georgian military aggression against the Ossetians.

But it may have been the first time he had a chance to do so on live television in front of hundreds of thousands of Russian viewers.

"We recall that in the year 1920, Georgian armed forces executed three punitive operations against the Ossetian people," Putin said. "We have inherited an extremely difficult history, which we should remember, and act in an intensely careful manner."

Facts Disputed

The statement sparked instant outrage in Georgia, where many lawmakers condemned Putin's words as politically motivated -- and historically inaccurate.

"It seems that Putin has bad history advisers," said Mikheil Machavariani, a deputy speaker of the Georgian parliament. "As for the clashes in the 1920s, he must have read this story in some book. What riots? What are you talking about?"

While Putin's comments have elements of truth, many Georgians appear angered by what he chose to omit -- namely, the reason Georgians chose to use force.

The May 1920 operation launched by Georgian forces was in response to an uprising staged largely by Ossetians living in the region of Shida Kartli, the historic Georgian name for what is now South Ossetia. It was the third such uprising in as many years.

Historian Bondo Kupatadze says the uprisings were the work of the Bolsheviks, who harnessed the Ossetians' separatist leanings in an attempt to reabsorb Georgian territory and restore the former borders of the Russian Empire.
The 1920 Shida Kartli conflict by all accounts was the bloodiest, as well-known memoirs like "Heavy Cross" by then-Georgian National Guard commander Valiko Jugheli attest.
"This movement leaned toward separatism, mainly Ossetians participated in it, and the government of Soviet Russia proficiently exploited this factor," Kupatadze says. "These actions were evidently controlled from Russia. There were three uprisings: in March of 1918, in 1919, and a third time in May-June of 1920."

The 1920 Shida Kartli conflict by all accounts was the bloodiest, as well-known memoirs like "Heavy Cross" by then Georgian National Guard commander Valiko Jugheli attest.

Russian history texts say Georgian troops killed as many as 18,000 and displaced 50,000 others during the campaign to quell the uprising.

Brutal By Any Account
Georgians say such figures are grossly exaggerated. But historians like Kupatadze concede the fighting was savage.


"It was really brutal," Kupatadze says. "The area of Roki was particularly targeted. Villages that were actively supporting the Bolsheviks were targeted by rampages. This was an entirely anti-Bolshevik operation. Naturally, the scale of the operation entailed casualties among the peaceful population as well. It would have been impossible to avoid this."
The fighting came just weeks after the Soviet Union and Georgia signed a mutual nonaggression treaty on May 7, 1920. A key article of the agreement held that Russia "inarguably recognizes Georgia's independence, and willingly abandons any sovereign right that it had to Georgian people and land."
Within years, however, Georgia had been incorporated into the USSR -- complete with an autonomous District of South Ossetia, created by the Soviets in appreciation for the Ossetians' role in destabilizing Georgia.
More than 80 years later, the Ossetians are once again seeking independence from Georgia -- and once again with the full support of Moscow.
Back To The Future
Putin's evocation of an Ossetian massacre at the hands of Georgian troops has angered many ordinary Georgians. "So they say we attacked Ossetians and waged war against them? Actually it was the other way around," says one man in Tbilisi. "They attacked us -- they took control of Ksani and Dzegvi [in Shida Kartli]. I'm not a historian, but I've learned some things."
The Georgian government has repeatedly said it wants to find peaceful means to resolve its current conflicts with breakaway South Ossetia and Abkhazia.
Putin says Russia's current crackdown on Georgia is aimed at "preventing bloodshed" in the separatist regions.
But Georgian Defense Minister Irakli Okruashvili fueled fears of a Georgian military campaign against South Ossetia by publicly vowing earlier this year to celebrate New Year's 2007 in Tskhinvali, where he was born.

Putin now routinely accuses Tbilisi of seeking instead to use military might to solve the frozen conflicts. Russia's current crackdown on Georgia, he says, is aimed at "preventing bloodshed" in the separatist regions.

The argument appears to be that history will repeat itself if Georgia once again uses military force against ethnic Ossetians. For the Georgians, however, it is Russia's backroom support of Tskhinvali that conjures up a sense of deja vu.
Russian Sanctions On Georgia
Russian Sanctions On Georgia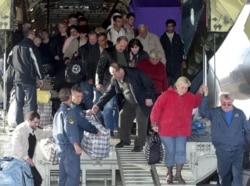 Georgian deportees arriving in Tbilisi on October 6 (epa)
RUSSIA DEPORTING GEORGIANS. Despite Georgia's release of four military officers accused of spying on October 2, Russia has continued its transport and postal blockade of Georgia, and has also deported hundreds of Georgians.... (more)
RELATED ARTICLES
Council Of Europe Head 'Concerned' About Reports Of Russian Sanctions
'No Time To Send Ambiguous Messages'
Ethnic Russians Feel Insulated From Tensions
Explaining West's Muted Response To Crisis
MORE: Coverage of the situation in Georgian from RFE/RL's Georgian Service and in Russian from RFE/RL's Russian Service.
ARCHIVE
RFE/RL's English-language coverage of
Georgia
and
Russia
.