Georgian President Mikheil Saakashvili has said he will not allow the two breakaway regions to secede, saying they are part of Georgia.
Interfax quotes Kokoity as saying his region's history as part of Georgia is one of "our people being threatened with genocide."
Bagapsh says Abkhazia "can never live with Georgia...in a single state." Abkhazia earlier this week sent an appeal to the Russian parliament asking for recognition as an independent country.
Bagapsh said he supports comments made late on October 20 by Russian President Vladimir Putin that warned Georgia to ease off its disputes with Abkhazia and South Ossetia or risk bloodshed.
"The government of Georgia and the people of Georgia have no intention of using force against its citizens, as repeatedly stated," Georgian Foreign Minister Gela Bezhuashvili said in response to Putin's remarks. "This is a pure fiction, and the Russian president knows this but chooses to presume that the international community is ignorant."
In an interview with AP today, Saakashvili "categorically" said Georgia would not start any military confrontation against the two regions.
(Interfax, AP)
Russian Sanctions On Georgia
Russian Sanctions On Georgia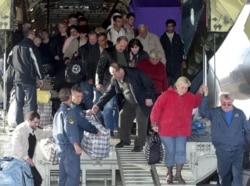 Georgian deportees arriving in Tbilisi on October 6 (epa)
RUSSIA DEPORTING GEORGIANS. Despite Georgia's release of four military officers accused of spying on October 2, Russia has continued its transport and postal blockade of Georgia, and has also deported hundreds of Georgians.... (more)
RELATED ARTICLES
Council Of Europe Head 'Concerned' About Reports Of Russian Sanctions
'No Time To Send Ambiguous Messages'
Ethnic Russians Feel Insulated From Tensions
Explaining West's Muted Response To Crisis
MORE: Coverage of the situation in Georgian from RFE/RL's Georgian Service and in Russian from RFE/RL's Russian Service.
ARCHIVE
RFE/RL's English-language coverage of
Georgia
and
Russia
.