Sean Spicer, a spokesman for the Office of the U.S. Trade Representative, today said all remaining issues in a U.S.-Russian bilateral trade deal are nearly resolved.
A bilateral deal would be a key step toward Russia's long-sought entry into the world trade body.
Meanwhile, 13 major international companies, including Boeing, Ford, and Shell, are reportedly urging Russia's quick entry into the WTO.
The Russian daily "Komersant" says the companies have written a joint letter to U.S. President George W. Bush and Russian President Vladimir Putin to press for a quick and successful conclusion to entry talks.
Russia, France Pass U.S. In Arms Sales
Meanwhile, according to a new study, the United States last year ceded to Russia and France its position as the leader in weapons sales to the developing world.
The annual report by the Congressional Research Service shows Russia sold $7 billion worth of arms to Asia, Africa, and Latin America in 2005, an increase from $5.4 billion from the year before.
France ranked second, with $6.3 billion, and the United States was third, with $6.2 billion.
Russia's rise was fueled by its booming trade with India and China, which included air-defense systems, antiship missiles, and military transport aircraft.
France's success was attributed to an agreement with India for the sale of diesel attack submarines, while the United States' fall was explained by a scarcity of new expensive contracts.
Those deals were part of the a global arms market in the developing world that grew to $30.2 billion in 2005.
(AFP, nytimes.com, Reuters)
WTO Status Of RFE/RL Broadcast Countries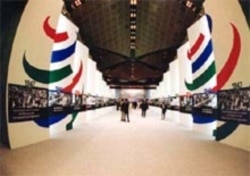 An exhibition of the history of the WTO in Singapore in 1996 (courtesy photo)

WTO Members:
Armenia: Joined on 5 February 2003.
Croatia: Joined on 30 November 2000.
Georgia: Joined on 14 June 2000.
Kyrgyzstan: Joined on 20 December 1998.
Macedonia: Joined on 4 April 2003.
Moldova: Joined on 26 July 2001.
Romania: Joined on 1 January 1995.
Countries That Are Not Yet WTO Members:
Afghanistan: Submitted its application in November 2004.
Azerbaijan: Submitted its application in June 1997.
Bosnia-Herezgovina: Submitted its application in May 1999.
Belarus: Submitted its application in September 1993.
Iran: Submitted its application in July 1996.
Iraq: Submitted its application in September 2004.
Kazakhstan: Submitted its application in January 1996.
Russia: Submitted its application in June 1993.
Serbia and Montenegro: Submitted separate applications in December 2004.
Tajikistan: Submitted its application in May 2001.
Ukraine: Submitted its application in November 1993.
Uzbekistan: Submitted its application in December 1994.
For more information, click here.
For an exclusive RFE/RL interview with former WTO head MICHAEL MOORE,click here.