Kazakh Groups Call For Amending Criminal Code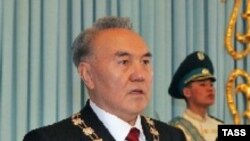 Kazakh President Nursultan Nazarbaev (file photo) (ITAR-TASS) October 30, 2006 -- Two Kazakh rights groups today urged authorities to expunge an article from the country's criminal code that seeks punishment for defaming the honor and dignity of the president and other high-ranking state officials.
The Adil Soz media watchdog and the Bureau For Human Rights And Respect Of The Legality said in a joint appeal posted on their websites that courts continue sentencing people under Article 318 of the criminal code.
The two groups quote then-Interior Minister Kairbek Suleimenov as saying in 2002 that President Nursultan Nazarbaev had instructed law enforcement agencies to no longer resort to this article.
But they say a court in August gave opposition activist Jasaral Kuanyshalin a two-year suspended jail term for publishing an article in which he criticized Nazarbaev's views on Kazakhstan's history.
More recently, opposition "Azat" newspaper journalist Kazis Toguzbaev was also indicted under Article 318.
(bureau.kz, adilsoz.kz)