Hussein Genocide Trial Adjourned For One Week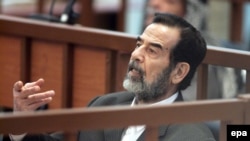 Hussein in court in December 2005 (epa) October 31, 2006 -- A judge trying Saddam Hussein for genocide against ethnic Kurds adjourned proceedings for a week today.
The trial will resume on November 7.
The former Iraqi leader is due to hear on November 5 the verdict in a separate trial for crimes against humanity involving Shi'ites. He faces the death penalty if convicted in that trial.
But Iraqi officials have said the November 5 session may be delayed until after the November 7 U.S. congressional elections.
(Reuters)