Belarusian Youth Activist Sentenced To 18 Months In Prison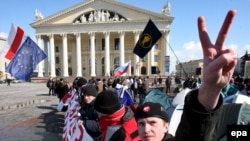 Protesters in October Square in Minsk following the March 2006 elections (epa) November 1, 2006 -- A Minsk court today sentenced youth opposition activist  Zmitser Dashkevich to a year-and-a-half in prison after convicting him of taking part in an unregistered group.
The trial, which began on October 30, was held behind closed doors.
Dashkevich was arrested on September 15. Dozens of opposition activists, including opposition leader and former presidential candidate Alyaksandr Milinkevich, demonstrated outside the court house demanding that Dashkevich be freed.
(Interfax, Charter 97)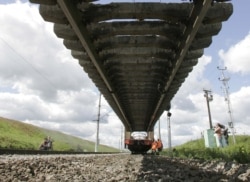 The main Moscow-Minsk railway line(Tass)

TO MERGE OR NOT TO MERGE: For over a decade, Moscow and Minsk have been working on a project to form a single state, the Russia-Belarus Union. However, every time the two countries seem on the verge of making progress, one or the other steps back, leaving the entire effort in doubt.
RELATED ARTICLES
Putin, Lukashenka Press Ahead With Unification
Has Putin Promised Lukashenka Fair Weather?
Tensions Remain In Putin-Lukashenka Talks
ARCHIVE
RFE/RL's
coverage of Belarus
. RFE/RL's
coverage of Russia
.