The information was disclosed by the Western human rights group Charta 97, and confirmed by Prosecutor-General Pyotr Miklashevich.
Prison officials declined to comment.
Kazulin, a former university rector, began a hunger strike on October 20, saying it was intended to galvanize the country's fractured opposition.
He was one of two opposition figures who ran against President Alyaksandr Lukashenka in the March presidential elections.
Kazulin was sentenced in July to 5 1/2 years in prison for his role in organizing street rallies to denounce official results giving the president a landslide win.
The United States and European Union have denounced Lukashenka's reelection as rigged
(dpa, Reuters).
Russia And Belarus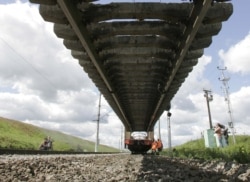 The main Moscow-Minsk railway line(Tass)

TO MERGE OR NOT TO MERGE: For over a decade, Moscow and Minsk have been working on a project to form a single state, the Russia-Belarus Union. However, every time the two countries seem on the verge of making progress, one or the other steps back, leaving the entire effort in doubt.
RELATED ARTICLES
Putin, Lukashenka Press Ahead With Unification
Has Putin Promised Lukashenka Fair Weather?
Tensions Remain In Putin-Lukashenka Talks
ARCHIVE
RFE/RL's
coverage of Belarus
. RFE/RL's
coverage of Russia
.