Belapan reported that most of the demonstrators were arrested as they headed toward the embassy. Additional activists were arrested beside the building, according to the Belarusian news agency.

The unsanctioned demonstration came as Russia was hosting the summit of the Group of Eight industrialized nations in St. Petersburg from 15-17 July.
Missing Remembered
The activists reportedly also intended to show their support for opposition figures who have disappeared during Lukashenka's rule. For nearly a year, opposition activists have marked those disappearances on the 16 day of the month. Viktar Ganchar, who was deputy chairman of the de jure Belarusian parliament, and his businessman friend Anatol Krasovsky disappeared on September 16, 1999.

In addition, yesterday's protest followed last week's sentencing of former Belarusian presidential candidate Alyaksandr Kazulin to 5 1/2 years in prison on charges of hooliganism and disorderly conduct.

Leader Detained
United Civic Party head Anatol Lyabedzka was among those detained yesterday. He reportedly called his wife last evening to inform her of his detention, but there has been no further contact.

(AFP, Reuters, Belapan)
Minsk, March 25
THE AUTHORITIES GET TOUGH: RFE/RL's Belarus Service filed these images from the police action against the March 25 demonstration in Minsk. Photographs by Maks Kapran.
LISTEN
Listen to the sounds of the demonstration:
Real Audio Windows Media
Real Audio Windows Media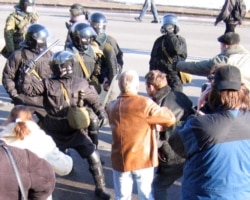 (RFE/RL)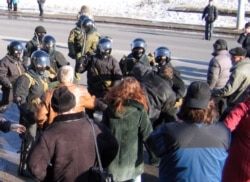 (RFE/RL)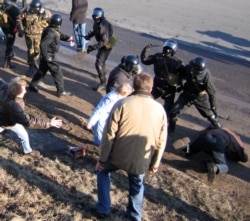 (RFE/RL)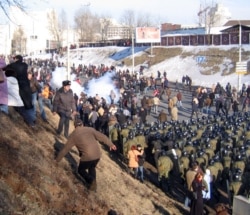 (RFE/RL)

THE COMPLETE PICTURE:
Click on the image to view a dedicated page with news, analysis, and background information about the Belarusian presidential ballot.


COVERAGE IN BELARUSIAN: Click on the image to view RFE/RL's coverage of the election campaign in Belarusian and to listen to RFE/RL's Belarusian Service.