EU, OSCE Criticize Belarus For Jailing Opposition Leader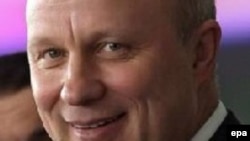 Alyaksandr Kazulin (file photo) (epa) PRAGUE, July 14, 2006 (RFE/RL) -- The European Union and the Organization for Security and Cooperation in Europe (OSCE) today criticized the decision by a Belarusian court to jail an opposition leader, Alyaksandr Kazulin, to 5 1/2 years for "hooliganism" and organizing and participating in antigovernment demonstrations earlier this year.
OSCE chairman in office, Belgian Foreign Minister Karel De Gucht, condemned the sentence, calling it "harsh" and said the he found "the entire handling of the alleged offenses... gravely disturbing."
De Gucht said he called for restraint by Belarus authorities but said "Belarus has basically ignored these calls."
The EU released a statement accusing Belarusian President Alyaksandr Lukashenka of using the country's law-enforcement apparatus to oppress his political opponents.
The statement said the court's decision "contradicts basic freedoms."

THE AUTHORITIES GET TOUGH: RFE/RL's Belarus Service filed these images from the police action against the March 25 demonstration in Minsk. Photographs by Maks Kapran.
LISTEN
Listen to the sounds of the demonstration:
Real Audio Windows Media
Real Audio Windows Media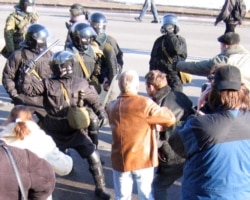 (RFE/RL)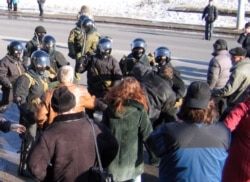 (RFE/RL)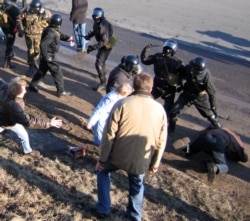 (RFE/RL)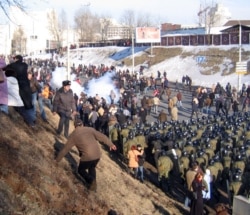 (RFE/RL)

THE COMPLETE PICTURE:
Click on the image to view a dedicated page with news, analysis, and background information about the Belarusian presidential ballot.


COVERAGE IN BELARUSIAN: Click on the image to view RFE/RL's coverage of the election campaign in Belarusian and to listen to RFE/RL's Belarusian Service.