Musharraf told the World Islamic Economic Forum in Islamabad that radical clerics who hold sway over "the masses" in the Muslim world are spawning terrorism instead of encouraging moderation.
He said such clerics reinforce misperceptions in the West that Islam is a religion of militancy and intolerance.
Musharraf, a major ally in the U.S.-led war on terrorism, was also critical of how Washington and Europe are battling terrorism. He said they are "putting the cart before the horse" by trying to address problems in Iraq, Lebanon, and Afghanistan without first resolving the dispute between Israel and the Palestinians.
Musharraf also told the forum that Muslim countries must empower their women, both politically and economically, as part of their development efforts.
(AP, Reuters)
Islam In A Pluralistic World
Islam In A Pluralistic World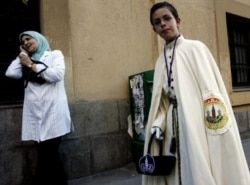 A Muslim woman (left) watches a Christian procession in Madrid in March (AFP)


READ
CONFERENCE ON ISLAM:
A major international conference on Islam concluded in Vienna in November 2005 with strong appeals from prominent Muslim leaders to recognize international terrorism as simply "terrorism." Political figures from Islamic countries, including the presidents of Iraq and Afghanistan, argued that it should never be labeled "Islamic" or "Muslim" terrorism because Islam is based on peace, dialogue, and tolerance. "Salaam" -- meaning "peace" -- was the key word of the three-day conference, titled "
ISLAM IN A PLURALISTIC WORLD
."
Iraqi President Jalal Talibani and Afghan President Hamid Karzai used the word in their remarks to emphasize the peaceful nature of Islam. Other speakers quoted passages from the Koran to the effect that all men and women, regardless of faith, are creatures of God and should live in peace with each other without discrimination
...(more)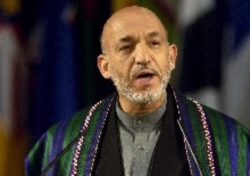 LISTEN
Listen to Afghan President
HAMID KARZAI
's complete address to the Vienna conference (in English):
Real Audio
Windows Media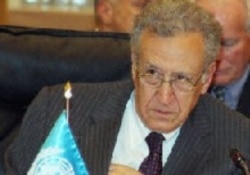 LISTEN
Listen to UN special envoy
LAKHDAR BRAHIMI
's complete address to the Vienna conference (in English):
Real Audio
Windows Media
THE COMPLETE PICTURE:
Click on the image to view a thematic webpage devoted to issues of religious tolerance in RFE/RL's broadcast region and around the globe.