Britain Urges Bosnia To Speed Up Reforms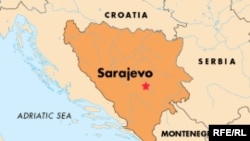 (RFE/RL) November 7, 2006 -- Britain's Minister for Europe Geoff Hoon has urged Bosnia to speed up political reforms that should take it closer to membership of NATO and the European Union.
Hoon, who was on a brief visit to Sarajevo today, said Bosnia needed to strengthen state institutions hobbled by ethnic power-sharing provisions in the country's postwar constitution.
The EU is due to present a progress report on Bosnia this week.
(AFP, Reuters, AP)