Alleged Uzbek Religious Fundamentalists Go On Trial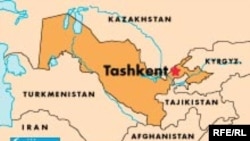 (RFE/RL) November 9, 2006 (RFE/RL) -- The trial of four men charged with propagating extremist religious views started today in the Uzbek city of Yangiyol, near Tashkent, RFE/RL's Uzbek Service reported.
Relatives of the defendants jostled with special police forces after they were prevented from entering the courtroom.
Following the incident, the presiding judge adjourned the hearings indefinitely.
Yangiyol rights activist Abdullo Tojiboi told RFE/RL the charges brought against the four defendants -- Agzam Karimov, Alisher Korzhovov, Akbar Sultanov, and Abdurasul Tumanov -- were groundless.
Korzhovov earlier this year received a two-year suspended jail term on religious-fundamentalism charges.