Central Election Commission head Bela Pliyeva told the ITAR-TASS news agency that the turnout was about 94 percent as of 1730 GMT.
According to exit polls, 99 percent of voters supported independence for South Ossetia.
Local authorities set a minimum 50 percent threshold for the vote to be valid.
But Georgia and all other countries except Russia say they will ignore the referendum results -- calling it illegitimate. Moscow says the results should be respected.
After voting in the capital, Tskhinvali, President Eduard Kokoity said South Ossetia would continue efforts to achieve complete independence through peaceful means.
"We only once again reaffirm the results of the referendum that took place in 1992," Kokoity said. "We believe that we are taking the right step. We have many foreign observers, many media representatives from different countries, who are to inform their viewers and readers about how much the people of the republic of South Ossetia cherish its independence."
On November 11, South Ossetian authorities accused Georgian security forces of trying to kill Kokoity, which Tbilisi denied.
Fleeing Georgia
South Ossetia, on the Russian border in the foothills of the Caucasus Mountains, broke away from Georgia in a brief war in 1992 that killed hundreds and forced tens of thousands to flee their homes.
Voters in South Ossetia's capital, Tskhinvali, insist they want to be independent from Georgia. "Independence for us means survival, survival for South Ossetia, one resident told Reuters. "First independence, then joining Russia."
Another Tskhinvali resident told Reuters: "We voted for going far away from Georgia. We support this idea."
There are strong pro-Russian sentiments in the region. Most South Ossetians hold Russian passports and use the Russian ruble as their currency. The Russian flag flies next to South Ossetia's white, red, and yellow flag around Tskhinvali.
Alternative Vote
However, not everybody in South Ossetia thinks along the same lines. The republic is located just 100 kilometers from the Georgian capital, Tbilisi, and has many villages populated by ethnic Georgians. They reject the vote called by the separatists and are running their own polls to elect a rival leader for South Ossetia.
Uruzmag Karkusov, the chairman of the Alternative Central Election Commission located in the village of Eredvi in the Tskhinvali region, told RFE/RL's Georgian Service that in the regions of South Ossetia not controlled by Kokoity, people are actively taking part in the alternative vote, saying, "All my wildest expectations have been exceeded."
He said that in some regions of South Ossetia, some 60 percent of voters are participating in the alternative vote.
Russian Blockade
The vote comes amid a diplomatic crisis between Tbilisi and Moscow that erupted last month when Georgia arrested and then expelled four Russian officers it accused of spying. Russia has cut off all transport links with the country, heavily impacting Georgia's struggling economy, and is seeking to double prices on the natural gas it exports to its resource-poor neighbor.
Russia has said that if the West supports independence for Kosovo from Serbia it should not deride independence drives in places like South Ossetia.
But the international community has warned against the referendum.
NATO Secretary-General Jaap de Hoop Scheffer said on November 11 that the referendum would increase regional tensions. He said in a statement that he joined "other international leaders in rejecting the so-called 'referendum' and 'elections.'"
Polls close at 1700 GMT. Preliminary results are expected on the morning of November 13.
(with agency reports)
The Kremlin Looks At Kosovo...And Beyond
The Kremlin Looks At Kosovo...And Beyond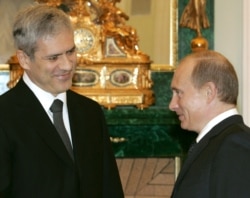 Russian President Vladimir Putin (right) greets Serbian President Boris Tadic in the Kremlin in November 2005 (TASS)
WILL THE KREMLIN BACK INDEPENDENCE? As the drive for independence grows in the Serbian province of Kosovo, the international community is speculating on how Russia, a veto-wielding member of the UN Security Council, will act. On September 22, Nicholas Whyte, director of the International Crisis Group's Europe Program, gave a briefing on the subject at RFE/RL's Washington, D.C., office. He speculated on what the Kremlin's "price" might be for agreeing to Kosovo's separation from Serbia.
LISTEN
Listen to the entire briefing (about 45 minutes):
Real Audio
Windows Media
RELATED ARTICLES
Referendums Seen As Kremlin's Master Plan
Independence Votes Popular In The Kremlin
Putin Warns Against Montenegro Model
How Does Moscow View Frozen CIS Conflicts?
Putin Calls For 'Universal Principles' To Settle Frozen Conflicts
ARCHIVE
RFE/RL's coverage of
Kosovo
and
Russia
.
SUBSCRIBE
For news and analysis on Russia by e-mail,
subscribe to "RFE/RL Russia Report."