The first international deal pursuant to the development of the Trans-Asia Railway Network (TAR) is a milestone. But significant obstacles remain to complete the TAR -- including technical impediments and funding for nearly 6,500 kilometers of railroad.
Improving Access To Landlocked Countries
The November 10 deal is crucial for landlocked countries, whose access to world markets is heavily dependent on efficient rail links to international ports. Twelve of the world's 30 landlocked countries are in Asia, and 10 of those are TAR members.
TAR is often compared to the ancient Silk Road, the medieval trade route from China to Europe that connected the farthest corners of the known world for centuries. The seeds of this "Iron Silk Road" were sown in 1960, when an initial plan envisioned a continuous 14,000-kilometer rail link between Singapore and Turkey, via Southeast Asia, India, Pakistan, and Iran.
But with rapid economic growth and increasing interdependence, the TAR has grown exponentially. Today, it encompasses a complex network of nearly 81,000 kilometers spread over four major geographical regions.
Kim Hak-su is the executive director of the UN body overseeing the TAR (UN Economic and Social Commission for Asia and the Pacific, or UNESCAP). He says the agreement signed by 18 transport ministers on November 10 from as far afield as Armenia, Azerbaijan, Iran, Russia, and the Central Asian countries of Kazakhstan, Tajikistan, and Uzbekistan could usher in a new era of regional integration.
Regional Integration
"We are talking about a long-run regional integration through the Trans-Asian Railway and, as you know, we have also settled the Asian Highway one year [ago]," Kim says. "So it is a good step forward, and one day all these countries will realize and recognize the importance of the linking [with] each other."
Ten of TAR's 28 members -- including Georgia, Kyrgyzstan, Turkmenistan, and Pakistan -- did not sign the agreement, but are expected to participate in the project nevertheless.
Afghanistan is among the countries lying on the route of the ancient Silk Road that is neither a TAR signatory nor expected to participate. Kim says Kabul's absence has to do with internal political divisions, but he hopes Afghanistan will join the TAR later.
"I think Afghanistan would join later," Kim says. "But at the moment, without Afghanistan, the [Trans-Asian] railroad is still linked to the West."
One of the technical hurdles confronting TAR is the different rail widths, or gauges. Rail systems in the former Soviet Union, for instance, use a wider gauge than those in China. The system in India, on the other hand, differs from them both. Kim says the problem will be overcome with the help of containers, which are already widely in use worldwide.
Getting Over The Hurdles
"We can actually develop [road-access ports] in each of the different gauge areas, and then this drive port [will] receive [truck-mounted] containers that can be re-shipped or transferred to the different gauges," Kim explains. "So, our experts say that different gauges are not a major problem."
UNESCAP experts believe that port efficiency can be enhanced through the integration of rail and shipping to avoid port congestion. That is a key factor in Asia, which is home to 13 of the world's 20 largest container ports.
Kim says China, South Korea, and Russia are all major backers of TAR. Once completed, the project will significantly enhance their rail systems' interoperability.
"Russia is very excited and also their TSR, Trans-Siberian Railway, is well-established," Kim says. "They have doubled lines, and then they electrified all the TSR from Nakhodka, Vladivostok, to St. Petersburg. And it can be also linked easily to Helsinki."
UNESCAP calls existing rail links within the South Caucasus (Armenia, Azerbaijan, and Georgia) and Central Asia (Kazakhstan, Kyrgyzstan, Tajikistan, Turkmenistan, and Uzbekistan) "railways of international importance."
There are still sticking points for the TAR, like funding and political strains of the type that kept North Korea from attending the November 10 signing. But the first international deal to implement the project -- signed nearly a half-century after TAR's conception -- might buoy the hopes of those who were beginning to get discouraged.
The Post-Soviet Environment
The Post-Soviet Environment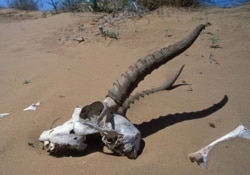 The skull of a male saiga antelope in Kalmykia. Saiga numbers have collapsed disastrously over the last decade. (shpilenok.com)
THE FRAGILE PLANET:
Since the collapse of the Soviet Union, old environmental disasters have come to light and new ones have emerged. War, poverty, and weak central-government control have led to serious environmental problems from Eastern Europe to the Russian Far East. RFE/RL has provided extensive coverage of these important issues and of efforts to cope with them.
RELATED ARTICLES
Saiga Antelope's Saga Attracts New Allies
Project To Reverse Aral Sea Damage Making Progress
Iraqi Marshes Show Signs Of Strong Recovery
Deforestation Rampant In South And Central Asia
Environmentalist Says BTC Pipeline Could Be 'Death Of Caspian'
Scientists Raise Alarm As Man-Made Deserts Spread
Nature Waits For Cross-Border Sanctuaries To Catch On
Central Asian Vllagers Encouraged To Protect Snow Leopards
Environmentalists Raise Concerns About Russian Ecology Policy
ARCHIVE
RFE/RL coverage of environmental issues
.