Tajikistan Regrets Killing Of Uzbek Border Guard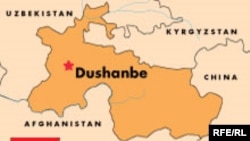 (RFE/RL) November 16, 2006 -- Tajikistan's border-guard service today admitted killing an Uzbek soldier on November 16 and expressed its regret at the incident.
Tajikistan says the incident occurred when a group of Uzbek border guards entered 150 meters into the country.
Tajikistan says its border guards opened fire after the Uzbeks failed to respond to warning shots.
(Avesta, Varorud)

RFE/RL Central Asia Report

SUBSCRIBE For regular news and analysis on all five Central Asian countries by e-mail,
subscribe to "RFE/RL Central Asia Report."