The pipeline, as presently planned, will cross over parts of the Finnish, Danish, and Swedish economic zones. A compressor station might be built close to the Swedish island of Gotland.
The 1,110 kilometer pipeline is a joint project between Russia's Gazprom and Germany's BASF Wintershall and E.ON Ruhrgas. It should come on-stream by 2010 and will supply Germany and Europe with Russian gas for decades to come.
Speaking at the Woodrow Wilson Center in Washington on October 23, Wahlback said "while the development issues surrounding the Shtokman [gas] field have been widely discussed, the Swedish dilemma has received little attention."
The "dilemma" is that, under international law, Sweden is responsible for environmental damage within its exclusive economic zone.
Environmental Risks
And the risk of environmental damage from this project is considerable. Chemical munitions were dumped into the Baltic Sea during World War II, while old depth charges and mines remain buried in the sediment.
Sweden could argue that the environmental dangers from Nord Stream are sufficient to have it rerouted. If that happened, it would likely be challenged by the German-Russian consortium.
It's unclear, legally, what Sweden can do about the pipeline. The economic-zone legislation, which was passed by the Swedish parliament in December 1992, does not clarify the situation. It states: "Persons navigating in the economic zone or carrying out research or other activities in the zone shall take such measures as are necessary for the avoidance of damage to the marine environment."
However, Article 10 of the Act also specifies that: "This Act...shall not include any restrictions of the rights, existing under international law, to free navigation in the economic zone, to overflight of the zone, and to the placement of cables and pipelines in the zone, nor of any other rights that follow from the national legislation -- as generally recognized principles of international law."
Sweden could use the environmental issue as a form of pressure to get more for themselves out of the deal. A possible spur connection to Sweden had been discussed earlier.
"Sweden has no interest in impeding Russian gas exports," Wahlback said, "and would like to contribute to the integration of Russia with Europe economically and otherwise." "However," he continued, "these two powers have prepared the project without asking for Sweden's views about the intended route."
Central Asia Gas Pipelines
Central Asia Gas Pipelines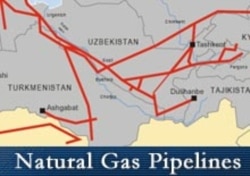 Click on the map for an enlarged image.

Russia's rising appetite for Central Asian gas is a direct result of the shifting fortunes of Gazprom, the state-run Russian company that controls lucrative exports. The company's total gas production has flatlined at around 550 billion cubic meters (bcm) a year. With major fields yielding less as they age, Gazprom has chosen to maintain its all-important gas balance by purchasing gas on the side -- from independent producers in Russia and from Russia's Central Asian neighbors -- instead of investing in the lengthy and costly development of untapped Arctic fields...(more)
See also: