New Georgian Economy Minister Named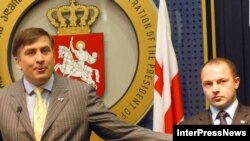 Saakashviki (left) presenting Arveladze in Tbilisi today (InterPressNews) November 20, 2006 -- Georgian President Mikheil Saakashvili today appointed his chief of staff, Giorgi Arveladze, as economy minister.
Arveladze, a specialist in international law, replaces Irakli Okruashvili who resigned on November 17 after being shifted into the position a week earlier from his job as defense minister.
Okruashvili had taken a tough stance during his 11 months in the defense job on Georgia's breakaway South Ossetia region.
(Interfax, Reuters)