The man who was named to succeed Okruashvili as defense minister, former Finance Police head David Kezerashvili, assured Rustavi-2 television that "restoration of the territorial integrity of Georgia remains our major goal, and nothing has changed," Caucasus Press reported on November 13.
Okruashvili, however, has made it clear that he is less than enthusiastic about his new appointment. He commented to his new subordinates on November 11 that "my heart and soul remain with the army," Caucasus Press reported.
Saakashvili's public explanation for transferring Okruashvili from the Defense to the Economy Ministry was that Georgia's economy "is now our battle front." Thus, the managerial and organizational talents of Okruashvili, whom Saakashvili described as "our strongest minister," are best deployed there, the Russian daily "Kommersant" wrote on November 13.
Ossetian Angle
But commentators in both Tbilisi and Moscow have offered several alternative explanations. One, proposed by Georgian opposition parliamentarian Tina Khidasheli, stems from Okruashvili's aggressive stance with regard to the unrecognized republic of South Ossetia.
As interior minister, Okruashvili -- who was born in the South Ossetian capital, Tskhinvali -- was behind an abortive incursion into that republic in the late summer of 2004. In February 2006, he publicly vowed to step down as defense minister if he failed to bring the breakaway region back under the control of the central Georgian government by the end of this year, enabling him to celebrate New Year 2007 in Tskhinvali.
Khidasheli therefore suggested that, in light of repeated Russian statements in recent months accusing Georgia of plotting a new military action against South Ossetia, Saakashvili "sacrificed" Okruashvili in the name of trying to improve strained relations with Moscow, a move she condemned as "setting a bad precedent," according to "Kommersant."
A second opposition politician, Imedi party Chairwoman Irina Sarishvili-Chanturia, was similarly quoted on November 13 as saying that Okruashvili was "sacrificed" in the name of Georgian-Russian relations.
But if this was indeed Saakashvili's hope, it seems to have been misplaced: "Kommersant" on November 13 quoted an unnamed Kremlin official as saying that Okruashvili's dismissal "makes no difference." "In order to resume a dialogue," the official said, "[the Georgian leaders] first have to abandon the idea of using force" against Abkhazia and South Ossetia.
Too Strong A Minister?
Opposition Labor party leading member Djondi Baghaturia was quoted by the daily "Akhali taoba" on November 13 as suggesting that Okruashvili was demoted because other top officials felt threatened by his popularity and influence.
According to a poll conducted by the weekly "Kviris palitra," the findings of which were published on November 6, more than 90 percent of the 552 respondents considered Okruashvili the second-most-influential figure in Georgia after Saakashvili, while 59 percent of the 463 respondents in a subsequent poll termed Okruashvili "the most attractive" Georgian politician, according to Caucasus Press on November 13.
Other analysts, however, believe that more sinister motives lay behind Saakashvili's decision to sideline Okruashvili, namely that Saakashvili feared Okruashvili might try to oust him.
Interfax on November 10 quoted Sergei Markov, director of the Moscow-based Center for Political Research, as saying that "this is the most important news from Georgia in 2006 -- it means that Saakashvili has averted a coup attempt." Markov added that in recent months, "Georgia has had not a Saakashvili regime but a Saakashvili-Okruashvili regime, in which the army was more loyal to the latter."
"Kommersant" for its part quoted a Kremlin insider as observing that "the impression is that Saakashvili considered [Okruashvili] excessively independent, and therefore dangerous."
But "Kommersant" also quoted unnamed Tbilisi analysts as dismissing the coup hypothesis on the grounds that Okruashvili's imputed popularity was grossly exaggerated, and that he "lacked the resources" to stage a successful seizure of power.
How Okruashvili's removal will affect the Georgian armed forces remains unclear. Civil Georgia on November 11 quoted the Georgian daily "Rezonansi" as predicting that Kezerashvili's promotion to defense minister is intended only as a stop-gap measure, and that Georgian envoy to the UN Irakli Alasania will soon be recalled to Tbilisi to take the post.
As economy minister, Okruashvili succeeds Irakli Chogovadze, who was simultaneously named to head the Georgian Oil and Gas Corporation following the resignation of its president, David Ingorokva, in the wake of a corruption scandal involving one of his subordinates.
Russian Sanctions On Georgia
Russian Sanctions On Georgia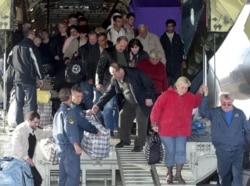 Georgian deportees arriving in Tbilisi on October 6 (epa)
RUSSIA DEPORTING GEORGIANS. Despite Georgia's release of four military officers accused of spying on October 2, Russia has continued its transport and postal blockade of Georgia, and has also deported hundreds of Georgians.... (more)
RELATED ARTICLES
Council Of Europe Head 'Concerned' About Reports Of Russian Sanctions
'No Time To Send Ambiguous Messages'
Ethnic Russians Feel Insulated From Tensions
Explaining West's Muted Response To Crisis
MORE: Coverage of the situation in Georgian from RFE/RL's Georgian Service and in Russian from RFE/RL's Russian Service.
ARCHIVE
RFE/RL's English-language coverage of
Georgia
and
Russia
.