In a televised address to the nation, President Viktor Yushchenko acknowledged that the population may be disappointed by the revolution's achievements to date, but he pledged that Ukraine's democratic progress was irreversible.
"I stress, the people and the president will allow neither a return to the past nor a return of criminal rules and black schemes," he said.
Yushchenko was swept to power in 2004
after a court ruling overturned the results of a rigged presidential election. But today,Yushchenko's main rival from that vote, Viktor Yanukovych, is the prime minister. Yushchenko's former allies are divided, and his own Our Ukraine bloc is in opposition.
Today, Yushchenko announced steps that he said would end bickering over who is in control.
"To bring order to the country, I am initiating a continuation of the constitutional reform. It will put an end to the conflict of authority and make your democratic choice irreversible," he said. "We need a constitution of freedoms that are really upheld. And if the constitutional dialogue among politicians reaches an impasse, I will give the people a chance to say their word."
He struck a conciliatory note toward his political challengers, and offered some advice to Yanukovych.
"I am ready to work together with the new government," Yushchenko said, "and I will tell Viktor Yanukovych, without any diplomacy: Reject politicians who want to take revenge and who seek conflict. I remind those who are in power and those who are in opposition that the master of our country is the people, not money, or technology, or manipulations."
Viktor Yanukovych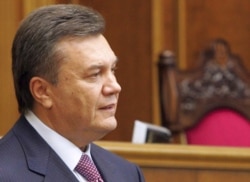 Prime Minister Viktor Yanukovych addresses Ukraine's Verkhovna Rada on August 6, 2006 (TASS)


UP FROM THE ASHES. On August 4, 2006, the Ukrainian legislature ended four months of political standoff by confirming Viktor Yanukovych as prime minister. Yanukovych's pro-Russian Party of Regions won the largest block of seats in the country's inconclusive March legislative elections. His confirmation capped a remarkable political comeback for Yanukovych after his defeat by Viktor Yushchenko in Ukraine's Orange Revolution....(more)
RELATED ARTICLES
Former President Comments On Yushchenko's Compromise
President Compromises For National Unity
Kremlin Insider Hails Developments
Former U.S. Envoy Says West Can Work With Yanukovych
ARCHIVE
RFE/RL's
coverage of Ukraine
. The website of
RFE/RL's Ukrainian Service
.


A photo gallery of political developments in Ukraine since the March 26 elections (Flash required)