The change was passed unanimously and without debate today by both houses of parliament in Astana. The measure must now be signed by President Nursultan Nazarbaev.
Under the old law, protests had been banned between election day and the publication of official results.
Parliament initially passed the measure after demonstrations in Kyrgyzstan in March 2005 ended with the ouster of President Askar Akaev. Those protests were inspired by similar revolts in Georgia and Ukraine.
Speaking in parliament today, the chairman of the Central Election Commission, Onalsyn Zhumabekov, said the decision to lift the ban had been taken independently and was unrelated to critical statements made by the OSCE's Office for Democratic Institutions and Human Rights.
"They may give only suggestions," he said. "The OSCE's Office for Democratic Institutions and Human Rights can't give us any proposals and any warnings. They can only express their opinion. They can make only suggestions. We, as the [independent] country, have full right to consider them, to agree with them or not to agree. Every country can institute restrictions in their laws according to ongoing situations."
The Organization for Security and Cooperation in Europe has not certified a single election in Kazakhstan as free and fair. Nazarbaev was reelected in December 2005 with 90 percent of the vote, according to official figures.
Kazakhstan is currently campaigning to chair the OSCE in 2009.
Kazakhstan And The OSCE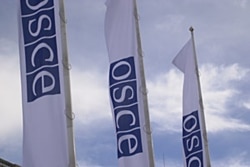 READY TO LEAD THE OSCE? Kazakhstan has been lobbying to be granted the rotating chair of the Organization for Security and Cooperation in Europe (OSCE) in 2009. In March, current OSCE head Karel De Gucht visited the country and said Kazakhstan is better prepared to head the OSCE than any other Central Asian country. But concerns about the state of democracy, the media, and ethnic relations make Kazakhstan's bid extremely controversial....(more)
RELATED ARTICLES
OSCE Says Kazakh Presidential Vote Flawed
OSCE Says Kazakh Obligations Not Met Ahead Of Vote
OSCE Offers Amendments To Kazakhstan's Draft Media Law
ARCHIVE
RFE/RL's
coverage of Kazakhstan
. The website of
RFE/RL's Kazakh Service
.