Nazarbaev's visit is considered very important both for Kazakhstan and the United Kingdom for both political and economic reasons, observers say.
"I think the paramount issue still is the political recognition in the world community for Nazarbaev."
Important Energy Source
Pauline Shearman of the Confederation of British Industry (CBI) says that for London the importance of the visit is clearly linked to the energy supply and its security.
"As far as we're concerned it's quite timely given that we're focusing quite a lot on energy security these days, and there being various concerns in the EU about long-term total reliance on the Russian energy sector alone," she says.
Shearman stresses that it is clear that Kazakhstan could provide alternative supplies of gas and oil to Britain and the EU and this is strategically important for the future. She also says that the importance of the visit is reflected in the number of events on Nazarbaev's London agenda, especially the meetings with the British financial and business communities.
As for Kazakhstan, the visit seems to be similarly important politically. Nazarbaev has to assure the most-developed Western countries that he has been moving in the "right direction" in more than just the economic and business spheres.
Progress Toward Democracy?
Dafne Ter Sakarian, an analyst with the Economist Intelligence Unit in London, notes that it is also very important for Nazarbaev to try to convince the West that his country, which is a candidate to chair the rotating chairmanship of the Organization for Security and Cooperation in Europe (OSCE) in 2009, is making progress toward democracy. The OSCE Ministerial Council is to decide on Kazakhstan's bid early next month.
"Kazakhstan is very keen to have its bid for the OSCE accepted, and so it's very important for the president to visit Western capitals and try and persuade Western nations that Kazakhstan is moving towards democracy and [is] worthy of consideration," she says.
Other experts agree, but they also cite other reasons. Ralph Wiegert, an analyst with the international business and investment consultant Global Insight, says Kazakhstan needs Western experience -- something that Britain could provide.
"Kazakhstan is obviously short of technological skills," he says. "In terms of oil extraction they need foreign participation to improve the efficiency of the national resources sector, and that's probably one other key issue of his visit."
Seeking Recognition
Wiegert stresses, however, that the political recognition that the visit could bring is of major importance to Nazarbaev's government, saying, "I think the paramount issue still is the political recognition in the world community for Nazarbaev,"

Nazarbaev will also have an audience with Queen Elizabeth on November 21 and then meet Prime Minister Blair at his office on 10 Downing Street. Afterward, he will talk to Chancellor of the Exchequer Gordon Brown, the likely successor to Blair when he steps down next year.
On November 22, Nazarbaev will open the day's proceedings at the London Stock Exchange, meet Lord Mayor of the City of London John Stuttard, and talk to representatives of London's financial and business sectors.
Increased Trade Ties
Later that day, Kazakh Foreign Minister Qasymzhomart Toqaev will meet with British Minister for Europe Geoff Hoon, and is expected to sign a road-transport agreement.
The CBI's Shearman concludes that as far as the economy and business are concerned, Kazakhstan and Britain can look forward to more cooperation than they've had so far. And bilateral trade has grown fast recently.
"According to statistics I've got, the trade balance is currently growing and seems to reach around a billion dollars at the [end of the] year and total U.K. investment is around $5.5 billion in total in Kazakhstan," she says. "But it's still pretty much focused around the energy and natural resources sectors, I have to say."
Shearman concludes that there is still a lot of room for improvement, and it will be Nazarbaev's job on this trip to generate more bilateral business deals while also gaining credibility for his controversial style of government.
Kazakhstan And The OSCE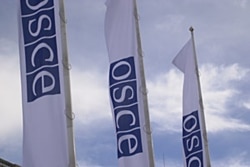 READY TO LEAD THE OSCE? Kazakhstan has been lobbying to be granted the rotating chair of the Organization for Security and Cooperation in Europe (OSCE) in 2009. In March, current OSCE head Karel De Gucht visited the country and said Kazakhstan is better prepared to head the OSCE than any other Central Asian country. But concerns about the state of democracy, the media, and ethnic relations make Kazakhstan's bid extremely controversial....(more)
RELATED ARTICLES
OSCE Says Kazakh Presidential Vote Flawed
OSCE Says Kazakh Obligations Not Met Ahead Of Vote
OSCE Offers Amendments To Kazakhstan's Draft Media Law
ARCHIVE
RFE/RL's
coverage of Kazakhstan
. The website of
RFE/RL's Kazakh Service
.