Azerbaijan Shuts Down Opposition Paper, Political Party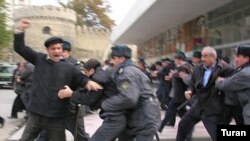 Police disperse opposition protest in support of independent media in Baku earlier this week (Turan) November 25, 2006 (RFE/RL) -- Azerbaijani authorities threw a leading opposition party and newspaper out of their offices today, in a continuing crackdown on the independent media, RFE/RL's Azerbaijani Service reported.
Police removed belongings and equipment from the offices of "Azadliq," the largest opposition newspaper, and the Popular Front, the main opposition party.
A journalists' union leader accused the government of seeking to silence dissent.
Yesterday, authorities warned the paper and the party of the impending eviction and took independent broadcaster ANS, the country's first private radio and television company, off the air.
The Organization for Security and Cooperation In Europe said it is "deeply concerned" about ANS's closure.
The U.S. Broadcasting Board of Governors also expressed concern. ANS carried shows produced by the Voice of America and RFE/RL.
(with material from AP)