A research institute (gfs.bern) said some 53 percent voted in favor of the measure, which will benefit the eight ex-communist and two Mediterranean countries that joined the bloc on May 1, 2004.
Switzerland is not an EU member, but enjoys close ties to the bloc.
(AP)
The EU's Visa Regime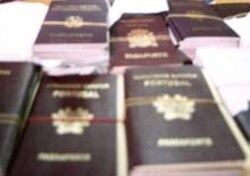 Standard visas to enter the European Union cost 35 euros ($44). However, the price rises to as much as 70 euros if the person applies within three days of departing.
Countries outside the European Union can negotiate their own treaties with the bloc.
Some visa fees are waived for certain applicants, notably for officials, students, athletes, scientists, or people receiving medical treatment.
Decisions on granting visas usually take 10 calendar days.
EU visa agreements do not apply to the United Kingdom and Ireland. Those countries have opted out of EU visa and immigration policy.
From January 1, 2007, the price of a Schengen-zone visa goes up by nearly 75 percent from 35 euros to 60 euros. Twenty-six countries are signatories to the Schegen agreement. They include all the EU states, with the exception of Ireland and the United Kingdom, and include the non-EU states of Iceland, Norway, and Switzerland. However, only 15 of the signatories have so far implemented the system. The new EU members from Central and Eastern Europe are among those countries yet to implement the agreement. EU officials have said the price rise is due to the need to integrate biometrics identifiers, for instance fingerprints, into the visa-application process.
Under readmission treaties, EU member states can ask a country to readmit illegal immigrants. That applies to a country's nationals or any third-country nationals who have transited through its territory.