Freedom House is a U.S.-based NGO that measures freedom in countries around the world.
Christopher Walker, the director of studies at Freedom House, tells RFE/RL that Kazakhstan faces significant problems, particularly in the areas of democracy, judicial independence, and press freedom.
"Kazakhstan has consistently performed poorly in a number of key areas in terms of democratic performance, which is really at the heart of the OSCE mission," Walker said. "And therefore we don't think at this time it's appropriate for them to have the leadership position of this organization."
In a statement issued on November 27, Freedom House cites the Kazakh government's "poor record on democracy and flouting of fundamental obligations both within and outside of the OSCE context."
In its annual survey in 2006, Freedom House gave Kazakhstan failing grades for political rights and civil liberties, ranking the country "not free."
The OSCE is scheduled to consider Kazakhstan's candidacy in 2009 at a meeting in Brussels on December 4-5.
Kazakhstan And The OSCE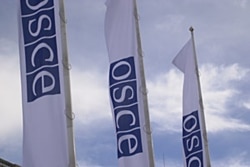 READY TO LEAD THE OSCE? Kazakhstan has been lobbying to be granted the rotating chair of the Organization for Security and Cooperation in Europe (OSCE) in 2009. In March, current OSCE head Karel De Gucht visited the country and said Kazakhstan is better prepared to head the OSCE than any other Central Asian country. But concerns about the state of democracy, the media, and ethnic relations make Kazakhstan's bid extremely controversial....(more)
RELATED ARTICLES
OSCE Says Kazakh Presidential Vote Flawed
OSCE Says Kazakh Obligations Not Met Ahead Of Vote
OSCE Offers Amendments To Kazakhstan's Draft Media Law
ARCHIVE
RFE/RL's
coverage of Kazakhstan
. The website of
RFE/RL's Kazakh Service
.