De Hoop Scheffer also expressed hope that Afghan forces can begin to take over security by 2008.
He was speaking in Riga ahead of NATO's summit starting tonight in the Latvian capital.
In Estonia, U.S. President George W. Bush said NATO allies must provide more forces to be successful in Afghanistan.
"We will discuss [at the NATO summit the] largest deployment -- and that is Afghanistan -- [and its] partnering with Afghan security forces to defeat the Taliban and [thereby] strengthening their young democracy," Bush said. "To succeed in Afghanistan NATO allies must provide the forces NATO military commanders require."
In recent months, since taking over military operations across the country, the alliance has been trying to get its member countries to contribute more troops in Afghanistan.
In Afghanistan's western Herat Province, a suicide car bomber today exploded his vehicle next to a police truck that had been chasing him, killing a police officer. Four people were wounded.
(AP)
The Afghan Insurgency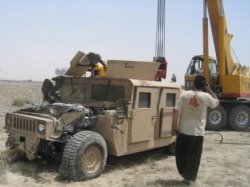 A U.S. military vehicle damaged by insurgents near Kandahar (epa)
HOMEGROWN OR IMPORTED? As attacks against Afghan and international forces continue relentlessly, RFE/RL hosted a briefing to discuss the nature of the Afghan insurgency. The discussion featured Marvin Weinbaum, professor emeritus of political science at the University of Illinois at Urbana-Champaign, and RFE/RL Afghanistan analyst Amin Tarzi.
LISTEN
Listen to the entire briefing (about 83 minutes):
Real Audio
Windows Media
ARCHIVE
RFE/RL's
coverage of Afghanistan
.
SUBSCRIBE
For weekly news and analysis on Afghanistan by e-mail,
subscribe to "RFE/RL Afghanistan Report."