The summit formally opens this evening, when heads of state will meet for a working dinner. Most substantive discussions are expected to take place on November 29.
But ahead of those talks, NATO Secretary-General Jaap de Hoop Scheffer made it clear that Afghanistan would dominate the agenda. In a keynote address in Riga this morning, he said he will use the summit to press alliance members to increase their commitment to the NATO-led International Security Assistance Force (ISAF) in Afghanistan.
"We must resource ISAF properly. It is not acceptable that our mission in the south [of Afghanistan] still lacks 20 percent of its combined joint statement of requirements," de Hoop Scheffer said. "I've spoken out repeatedly, and I'll do it here again this morning, about national caveats that take away a commander's flexibility and undermine our operational effectiveness."
NATO's Credibility At Stake
NATO has made Afghanistan, where it now has over 30,000 soldiers, a key litmus test. If it succeeds in defeating the Taliban insurgency and stabilizing Afghanistan, the alliance will have proven that it has shed its Cold War legacy and is ready to take on the 21st century's security challenges. If NATO fails in Afghanistan, serious questions about its relevance will be raised.
That was how the chairman of the U.S. Senate's Foreign Relations Committee, Richard Lugar, put it on November 27. He warned that a failure by member states to commit wholeheartedly to Afghanistan could deal a serious blow to NATO's credibility.
"If the most prominent alliance in modern history were to fail in its first operation outside of Europe due to a lack of will by its members, the efficacy of NATO and the ability to take joint action against a terrorist threat would be called into question," Lugar said.
Avoiding Combat
The problem is that the Taliban insurgency is gathering strength and NATO troops, which have only recently extended their mandate across the country, are too spread out and inflexible.
The "national caveats" de Hoop Scheffer referred to are restrictions placed by key NATO countries on what their soldiers can do, which seriously impair their ability to fight the Taliban.
Only the United States, Britain, Canada, and the Netherlands have troops in the south, where the insurgency is most intense. They are suffering the highest casualties.
German forces, by contrast, are in the relatively quiet north and they are not allowed by Berlin to come to their fellow soldiers' assistance down south. France, Italy, and Spain -- among others -- have put in rules that essentially keep their soldiers out of harm's way.
This is causing resentment and tension within the alliance, and puts in doubt the very meaning of the word, according to some military experts.
Stark Choice
U.S. President George W. Bush, speaking in the Estonian capital, Tallinn, early today struck a similar note, saying he too would push NATO allies to increase their commitment in Afghanistan.
"We will discuss [at the NATO summit in Riga the] largest deployment -- and that is [in] Afghanistan -- [and its] partnering with Afghan security forces to defeat the Taliban and [thereby] strengthening their young democracy," Bush said. "To succeed in Afghanistan, NATO allies must provide the forces NATO military commanders require."
Latvian President Vaira Vike-Freiberga, the summit's host, summed up the challenge in Afghanistan in stark terms. "If we fail in our mission in Afghanistan, then surely the Taliban and Al-Qaeda will return to power," she said. "It will embolden Islamic extremists elsewhere in the world and that is the scenario that surely we do not wish to see fulfilled."
With Afghanistan so dominating the alliance's summit, other issues such as continued expansion -- possibly to include nations like Albania, Macedonia and Georgia -- have been pushed to the margins. No decision on expanding the alliance further are expected in Riga, which undoubtedly will be a relief to Moscow.
The Afghan Insurgency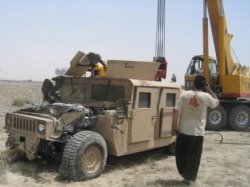 A U.S. military vehicle damaged by insurgents near Kandahar (epa)
HOMEGROWN OR IMPORTED? As attacks against Afghan and international forces continue relentlessly, RFE/RL hosted a briefing to discuss the nature of the Afghan insurgency. The discussion featured Marvin Weinbaum, professor emeritus of political science at the University of Illinois at Urbana-Champaign, and RFE/RL Afghanistan analyst Amin Tarzi.
LISTEN
Listen to the entire briefing (about 83 minutes):
Real Audio
Windows Media
ARCHIVE
RFE/RL's
coverage of Afghanistan
.
SUBSCRIBE
For weekly news and analysis on Afghanistan by e-mail,
subscribe to "RFE/RL Afghanistan Report."