Ukrainian Parliament Calls Soviet-Era Famine 'Genocide'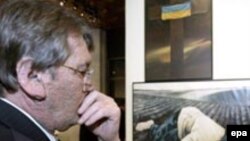 Ukrainian President Viktor Yushchenko pictured in 2005 at an exhibition on the famine (epa) November 28, 2006 -- Ukraine's parliament today overwhelmingly adopted a bill recognizing the Soviet-era forced famine as genocide against the Ukrainian people.
An estimated 10 million Ukrainians starved to death in 1932-33 after Soviet dictator Joseph Stalin seized the country's cattle and crop in a forced farm collectivization campaign.
The acting director of Ukraine's National Memory Institute, Ihor Yukhnovsky, told RFE/RL's Ukrainian Service that he welcomed the parliament's decision.
"The fact is that the famine did take place and great numbers of people were destroyed by their isolation from the external world," he said. "Not honoring the memory of those innocently killed would be a crime against our own people."
The vote is a victory for Ukraine's pro-Western president Viktor Yushchenko, who put forward the bill. Moscow had strongly opposed the initiative.
Yushchenko's first deputy chief of staff, Ivan Vasyunyk, said the president welcomed the draft's adoption as "historic."
(AP, AFP Interfax, ITAR-TASS)
RFE/RL Belarus, Ukraine, And Moldova Report

SUBSCRIBE For weekly news and analysis on Belarus, Ukraine, and Moldova by e-mail,
subscribe to "RFE/RL Belarus, Ukraine, And Moldova Report."