In his summary, NATO Secretary-General Jaap de Hoop Scheffer described "real progress" in Afghanistan as the main highlight of the summit. He counseled against visions of "doom and gloom," saying that five years after the defeat of the hard-line Taliban regime, Afghanistan is a democratic society that is "no longer a threat to the world."
The situation in Afghanistan was the exclusive focus of the NATO leaders' dinner on November 28.
De Hoop Scheffer said alliance leaders believe defeating the insurgency in Afghanistan is a matter of time.
"The conclusion of the dinner yesterday was [that Afghanistan] is winnable, it is being won, but it is not yet won because, of course, we have many challenges in Afghanistan," de Hoop Scheffer said.
One of the main challenges being increasingly acknowledged by NATO is the need to move beyond military engagement to reconstruction and development work.
De Hoop Scheffer said after the summit that the "answer in Afghanistan is not military," and he appealed to the United Nations, the European Union, the Group of Eight (G-8) major industrialized countries, and the World Bank to join NATO in supporting Afghanistan within the framework of a comprehensive military, political, and economic strategy.
Greater Flexibility
The summit also saw Germany, France, Spain, and Italy agree to roll back some of the restrictions that currently limit the participation of their forces in Afghanistan in combat operations.
De Hoop Scheffer said the removal of some of the restrictions, known as "caveats," means that some 20,000 of the total of 32,000-plus NATO troops in ISAF are in future "more usable" for combat duties.
He also underscored the fact that in real emergencies, these troops would be immediately available to the ISAF commander without the need for further consultations with national capitals.
"There is no negotiation on what an emergency is," de Hoop Scheffer said. "Emergency is defined and will be defined by one man and only one man -- that is the commander of ISAF."
NATO allies also contributed more fighter planes, helicopters, and infantry companies to ISAF and agreed to set up "embedded" training units in the Afghan National Army.
De Hoop Scheffer said that the lifting of some of the "caveats" together with the added contributions mean that ISAF is now at 90 percent of its envisaged full strength. He noted, however, that no NATO mission operates at maximum strength.
'External' Relations
The summit also announced upgrades in ties with Western Balkan countries, but remained largely silent on the prospects of Georgia and Ukraine.
The final declaration adopted by NATO leaders in Riga promises membership invitations to Albania, Croatia, and Macedonia in early 2008. It also extends NATO's Partnership for Peace program to Serbia, Montenegro, and Bosnia and Herzegovina.
The summit offered no new prospects for Ukraine and Georgia, limiting itself to noting the efforts of both countries to conduct an "intensified dialogue" with NATO.
Estonian Prime Minister Andrus Ansip said after the summit that he had discussed Georgia's NATO membership with U.S. President George W. Bush in Tallin on November 28. Ansip said that in his view Georgia has "very good chances" to join NATO, provided reforms continue. He added that the next necessary stop on Georgia's part toward that goal, a Membership Action Plan, is "a small step away."
Responding to a question by RFE/RL, de Hoop Scheffer said NATO remains interested in closer ties with the Central Asian countries.
"You see in the Riga declaration that one of the ambitions of the heads of state and government of NATO is clearly to strengthen existing partnerships, and that very much is relevant for Central Asia," de Hoop Scheffer said.
He pointed to the upcoming visit to NATO headquarters in Brussels of Kazakhstan's president, Nursultan Nazarbaev.
He also said he regretted Uzbekistan's continued "empty-chair policy" at NATO meetings with partner countries, adding the alliance remains open for dialogue.
New Ground
The Riga summit declaration breaks new ground with a reference to energy, saying the alliance recognizes its security can be affected "by the disruption of the flow of vital resources." NATO undertakes to study the risks and identify areas where it could "add value" to its members' relevant security interests.
The summit was briefly overshadowed late on November 28 by news that French President Jacques Chirac had invited his Russian counterpart, Vladimir Putin, to attend his 74th birthday dinner.
A diplomatic source told RFE/RL that several allied leaders, including Latvian President Vaira Vike-Freiberga, had rushed to make arrangements for bilateral talks with Russia. However, the visit failed to materialize, with Putin instead attending an energy summit with fellow CIS leaders in Minsk.
No serving Russian president has visited the Baltic countries since they regained independence in 1991.
The Afghan Insurgency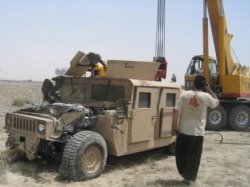 A U.S. military vehicle damaged by insurgents near Kandahar (epa)
HOMEGROWN OR IMPORTED? As attacks against Afghan and international forces continue relentlessly, RFE/RL hosted a briefing to discuss the nature of the Afghan insurgency. The discussion featured Marvin Weinbaum, professor emeritus of political science at the University of Illinois at Urbana-Champaign, and RFE/RL Afghanistan analyst Amin Tarzi.
LISTEN
Listen to the entire briefing (about 83 minutes):
Real Audio
Windows Media
ARCHIVE
RFE/RL's
coverage of Afghanistan
.
SUBSCRIBE
For weekly news and analysis on Afghanistan by e-mail,
subscribe to "RFE/RL Afghanistan Report."