Ukrainian Minister Calls Decision To Fire Him Unlawful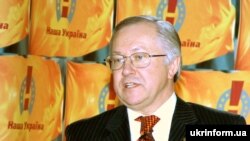 Boris Tarasyuk (file photo) (Ukrinform) KYIV, December 1, 2006 (RFE/RL) -- Borys Tarasyuk has protested the Ukrainian parliament's decision today to oust him as foreign minister, RFE/RL's Ukrainian Service reported.
"Today's vote was conducted with violations," he told a news conference in Kyiv.
"Two ministers -- the foreign minister and the defense minister -- are nominated by the president and approved by parliament. At the same time, the constitution does not describe dismissal procedures for these ministers, which once again points to the imperfection of the changes that were made to the constitution hastily," Tarasyuk concluded.
Tarasyuk said the parliament was launching a "war" against President Viktor Yushchenko to seize some of his power.
He called on all democratic forces to join hands in preventing a "rollback of democracy."
The vote follows a request by Prime Minister Viktor Yanukovych to fire Tarasyuk.
RFE/RL Belarus, Ukraine, And Moldova Report

SUBSCRIBE For weekly news and analysis on Belarus, Ukraine, and Moldova by e-mail,
subscribe to "RFE/RL Belarus, Ukraine, And Moldova Report."