Nagorno-Karabakh is located within Azerbaijan but has been controlled by Armenian and ethnic-Armenian Karabakh troops since a 1994 truce ended fighting there.
Mammadyarov, speaking in Brussels today, said Azerbaijan and Armenia have agreed on the basic principles of the status of region, but that differences remained over the speed of the pullout of Armenian troops from the province.
Mammadyarov said the two sides have agreed on the need for international peacekeepers and the quick rebuilding of the infrastructure of the region.
But he condemned Armenian plans for a constitutional referendum in Nagorno-Karabakh later this month, saying Azerbaijan is still not convinced Armenia is sincere about its determination to resolve the conflict.
On December 4, Armenian Foreign Minister Vartan Oskanian said hopes were high for a lasting resolution to the conflict.
The Organization for Security and Cooperation in Europe (OSCE) today issued a statement lauding the progress this year on resolving the dispute and calling on both countries for redoubled efforts in 2007.
(AP)
The Nagorno-Karabakh Conflict
The Nagorno-Karabakh Conflict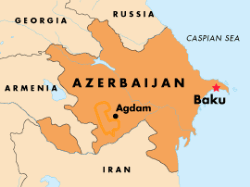 Click on the image to view an enlarged map of the Nagorno-Karabakh conflict zone

In February 1988, the local assembly in Stepanakert, the local capital of the Azerbaijani region of NAGORNO-KARABAKH, passed a resolution calling for unification of the predominantly ethnic-Armenian region with Armenia. There were reports of violence against local Azeris, followed by attacks against Armenians in the Azerbaijani city of Sumgait. In 1991-92, Azerbaijani forces launched an offensive against separatist forces in Nagorno-Karabakh, but the Armenians counterattacked and by 1993-94 had seized almost all of the region, as well as vast areas around it. About 600,000 Azeris were displaced and as many as 25,000 people were killed before a Russian-brokered cease-fire was imposed in May 1994.
CHRONOLOGY: For an annotated timeline of the fighting around Nagorno-Karabakh in 1988-94 and the long search for a permanent settlement to the conflict, click here.

Click on the icon to view images of the Nagorno-Karabakh conflict (Flash required)
To view an archive of all of RFE/RL's coverage of Nagorno-Karabakh,
click here.