Kyrgyzstan, World Bank Wrap Up Debt-Relief Talks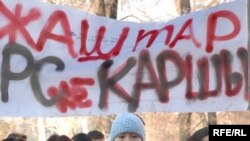 A protest in Bishkek on December 6 against Kyrgyzstan's entry into the HIPC program (RFE/RL) BISHKEK, December 8, 2006 (RFE/RL) -- Some 300 demonstrators rallied today in Bishkek against government plans to join an international debt-relief program.
The mostly young protesters chanted slogans against the World Bank and the International Monetary Fund, which sponsor the Heavily Indebted Poor Countries (HIPC) program.
They chanted slogans such as "World Bank, Get Out! HIPC, No Way!"
This was the fourth such protest rally held in Bishkek since talks on joining the program started in the Kyrgyz capital on November 29.
The government says joining HIPC will help write off a substantial part of the country's $2 billion external debt. But critics fear the program will give the World Bank and the IMF too much control over the Kyrgyz economy.
(RFE/RL's Kyrgyz Service, president.kg, 24.kg)
RFE/RL Central Asia Report

SUBSCRIBE For regular news and analysis on all five Central Asian countries by e-mail,
subscribe to "RFE/RL Central Asia Report."