They said about 20 gunmen killed a father and three sons of one family and five brothers of another. No women were hurt in the attack in the southwestern al-Jihad district.

The bodies of 17 other victims of violence in Iraq, three of them headless, were recovered by police in northern Baghdad.
In Diyala province, northeast of Baghdad, nine people were reported killed today.
A police colonel was shot dead in western Baghdad.
In the central city of Tikrit, gunmen shot dead a security guard.
In the northern oil city of Kirkuk gunmen shot dead a barber.
Sectarian fighting continued today in the Amil district of southwestern Baghdad, where an Interior Ministry source said Shi'ite militias and Sunnis clashed on December 9.
Also on December 9, Shi'ite militiamen raided the religiously mixed al-Hurriya district in western Baghdad, killing two people and forcing tens of Sunni families to flee.
The U.S. military also said today that it is working with Iraqi soldiers "to reduce sectarian violence and insurgency activities" in Baghdad's Azamiyah district.

U.S. forces have been conducting raids in and around the capital in the past several days in search of militants and kidnapping cells.

(Reuter, AFP, dpa)
Sectarian Iraq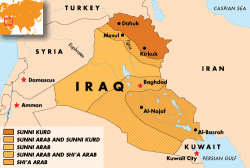 Click to enlarge the image.
SUNNI, SHI'A: Iraq is riven along sectarian lines, faults that frequently produce violent clashes and are a constant source of tension. Sectarian concerns drive much of Iraqi politics and are the main threat to the country's fragile security environment.


THE COMPLETE PICTURE: Click on the image to view RFE/RL's complete coverage of events in Iraq and that country's ongoing transition.