Separatist authorities said that by late afternoon about two-thirds of the roughly 90,000 eligible voters had cast ballots.
The vote comes 15 years after separatists formally declared independence from Azerbaijan in a move that has not been recognized by the international community.
The Azerbaijani government, which wants to retain control over the territory, has denounced the referendum as illegitimate and an interference in efforts to resolve the dispute peacefully.

International observers recently suggested that an agreement might soon be struck over principles for the status of the region, although they say some sticking points remain.

(Reuters, AFP)
The Nagorno-Karabakh Conflict
The Nagorno-Karabakh Conflict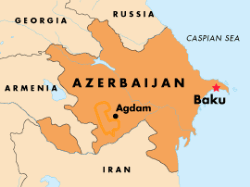 Click on the image to view an enlarged map of the Nagorno-Karabakh conflict zone

In February 1988, the local assembly in Stepanakert, the local capital of the Azerbaijani region of NAGORNO-KARABAKH, passed a resolution calling for unification of the predominantly ethnic-Armenian region with Armenia. There were reports of violence against local Azeris, followed by attacks against Armenians in the Azerbaijani city of Sumgait. In 1991-92, Azerbaijani forces launched an offensive against separatist forces in Nagorno-Karabakh, but the Armenians counterattacked and by 1993-94 had seized almost all of the region, as well as vast areas around it. About 600,000 Azeris were displaced and as many as 25,000 people were killed before a Russian-brokered cease-fire was imposed in May 1994.
CHRONOLOGY: For an annotated timeline of the fighting around Nagorno-Karabakh in 1988-94 and the long search for a permanent settlement to the conflict, click here.

Click on the icon to view images of the Nagorno-Karabakh conflict (Flash required)
To view an archive of all of RFE/RL's coverage of Nagorno-Karabakh,
click here.