PRAGUE, June 30, 2006 (RFE/RL) -- It wasn't what Matthew Bryza said that caught Yerevan and Baku off balance.

The surprise was that the OSCE had gone public.

Principles At Stake
Bryza's comments revealed the outline of the core principles under discussion. They also revealed the Minsk Group's deepening frustration at the failure of the two sides to make concessions more than a decade after negotiations began.

There may have been hope Bryza's statement and a Minsk Group statement issued the same day would provoke a more open debate in Armenia and Azerbaijan on the future of Nagorno-Karabakh.

If so, the OSCE mediators may have been disappointed by the initial flurry of mutual recrimination and blame between the two sides -- including a bellicose statement from Azerbaijani President Ilham Aliyev, who said international efforts on the talks were "hopeless" and raised the possibility of a military solution.

In a follow-up interview on June 28, RFE/RL asked Bryza if he was surprised by Aliyev's statement.

"Those statements have been more commonplace than they ought to be, and I'd stand by what I said last Thursday, on June 22, that talk about recapturing Karabakh by force, or any use of force by any party, is simply not helpful," Bryza said. " It's not necessary, because there is a viable framework on the table that just requires a little bit more political courage on both sides to forge a compromise. Though I stand by what I said -- it's not helpful."

Not helpful -- and surely not even a viable option for Azerbaijan, whose oil-based economic recovery is dependent on stability in the region.

Meek Group No More
The Minsk Group, which in the past has played a quietly supportive background role, has a blunt new message: It's time for all parties to the dispute to take responsibility for finding a solution.

As mediators, Bryza says, the co-chairs feel they have done all that they can do.

"What we're saying in the statement is that there is no more room for diplomatic creativity to make this piece of metal shine a little bit more brightly," Bryza said. "It's honed and you have to decide whether you want it or not. The trade-offs that would have to be made are so significant politically that it requires the head of state to make the trade-off. So we're saying OK, it's yours now."

But is anyone listening? The ball may be in Baku and Yerevan's court, but neither side appears interested in concession.

One of the main points of dispute is over the terms of a referendum to determine the final status of the enclave.

Azerbaijan says the form of the referendum has yet to be decided.

But Armenian Foreign Minister Vardan Oskanian stirred controversy this week when he claimed Bryza said the status of the enclave would be determined by its current population -- which overwhelmingly comprises ethnic Armenians.

This is not a conclusion supported by the Minsk Group statement.

Tom de Waal, an English expert on the region, says many crucial questions remain about a potential referendum.

"Is this going to be a referendum just of the current population of Karabakh, which is 99 percent Armenian? Is it going to be a referendum of the prewar population of Karabakh, which was 25 percent Azerbaijani? Or is this going to be a referendum for the whole population of Azerbaijan?" De Waal asked. "So I think this idea of a referendum was possibly good to begin with, but people are now beginning to ask much more difficult questions about the details."

Road To Peace
The Minsk Group says its has adopted a slow-but-steady approach aimed and building trust on the way to a lasting peace.

But none of this will be possible, they say, while the two sides continue to present the issues in mutually exclusive black-and-white terms rather than preparing their publics for the concessions inherent in a peaceful settlement.

For now, however, de Waal says he sees very little robust discussion of the issue.

"I don't really see much discussion at all when I travel to the region," De Waal said. "I don't see anyone in public in Azerbaijan saying the most important thing is to solve this thing peacefully even if this means very painful compromise. And I don't see that on the Armenian side, either. When they say they want agreement, what they are really saying is that they want victory. And of course you don't get complete victory in a peace process -- you get half a victory, you get a compromise."

Official Ambition
The issue is also complicated by the fact that Karabakh officials themselves are eager to play a greater role in the negotiations.

Speaking this week in Washington, the speaker of the Nagorno-Karabakh parliament, Ashot Ghulian, said including enclave officials as a party in the peace process would "restore the correct format of negotiations and neutralize accusations of Armenia as an aggressor and [diminish] the tendency in regional policy to isolate Armenia."

For all parties involved, time for a quick breakthrough is running out. The window of opportunity in 2006 brought by the current pause in electoral activity in Armenia and Azerbaijan is rapidly closing. The next election-free year would come only in 2009.
The Nagorno-Karabakh Conflict
The Nagorno-Karabakh Conflict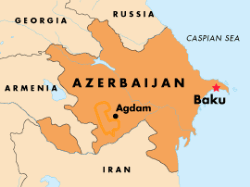 Click on the image to view an enlarged map of the Nagorno-Karabakh conflict zone

In February 1988, the local assembly in Stepanakert, the local capital of the Azerbaijani region of NAGORNO-KARABAKH, passed a resolution calling for unification of the predominantly ethnic-Armenian region with Armenia. There were reports of violence against local Azeris, followed by attacks against Armenians in the Azerbaijani city of Sumgait. In 1991-92, Azerbaijani forces launched an offensive against separatist forces in Nagorno-Karabakh, but the Armenians counterattacked and by 1993-94 had seized almost all of the region, as well as vast areas around it. About 600,000 Azeris were displaced and as many as 25,000 people were killed before a Russian-brokered cease-fire was imposed in May 1994.
CHRONOLOGY: For an annotated timeline of the fighting around Nagorno-Karabakh in 1988-94 and the long search for a permanent settlement to the conflict, click here.

Click on the icon to view images of the Nagorno-Karabakh conflict (Flash required)
To view an archive of all of RFE/RL's coverage of Nagorno-Karabakh,
click here.