The Belarus Democracy Reauthorization Act of 2006 calls on the president to prohibit U.S. loans and most exports to Belarus as an addition to travel restrictions already in place against senior Belarusian officials.
The bill also includes a statement demanding the release of political prisoners in Belarus.
The bill must still be signed into law by President George W. Bush.
(AP)
Russia And Belarus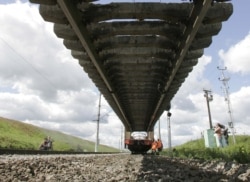 The main Moscow-Minsk railway line(Tass)

TO MERGE OR NOT TO MERGE: For over a decade, Moscow and Minsk have been working on a project to form a single state, the Russia-Belarus Union. However, every time the two countries seem on the verge of making progress, one or the other steps back, leaving the entire effort in doubt.
RELATED ARTICLES
Putin, Lukashenka Press Ahead With Unification
Has Putin Promised Lukashenka Fair Weather?
Tensions Remain In Putin-Lukashenka Talks
ARCHIVE
RFE/RL's
coverage of Belarus
. RFE/RL's
coverage of Russia
.