Uzbek Police Break Up Rally For Jailed Activist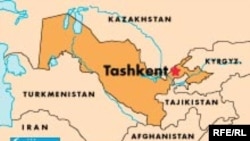 (RFE/RL) TASHKENT, December 12, 2006 (RFE/RL) -- Uzbek security forces today broke up a small rally called to demand the release of jailed human rights activist Mutabar Tojiboeva.
Tojiboeva's brother, Rasuljon, told RFE/RL's Uzbek Service that less than a dozen relatives had started demonstrating in front of the building that houses the presidential administration when security officers assaulted them.
"We had started demonstrating in front of the president's office at 0900 and had been there for about 15 minutes when police officers came to us and tore down our signs," he said. "One of them approached me with threats. He said to me 'I can guarantee you that very soon we'll put you in jail, too.' After our placards had been torn down, some 15 robust men came out of the president's office and assaulted us, telling us we shouldn't be there. Then, we had to vacate the place."
No arrests were made, but RFE/RL's Uzbek Service reports security officers later came to the house of Tojiboeva's sister-in-law and confiscated her passport.
In comments posted on the independent uznews.net on December 9, Tojiboeva's relatives warned President Islam Karimov that they intended to picket his office.
The 44-year-old Tojiboeva is serving an eight-year prison sentence on extortion charges that rights groups say are trumped up.
Friends and relatives say they are concerned about her health and that she has been held incommunicado since September.
A Nobel Peace Prize nominee, Tojiboeva was arrested in October 2005 as she was preparing to leave the country to attend an international conference in Dublin.
(RFE/RL's Uzbek Service, uznews.net)
RFE/RL Central Asia Report

SUBSCRIBE For regular news and analysis on all five Central Asian countries by e-mail,
subscribe to "RFE/RL Central Asia Report."