Azerbaijani Broadcaster Back On Air After Ban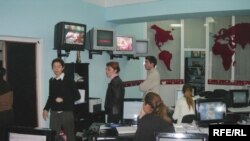 The ANS newsroom in Baku during the ban (file photo) (RFE/RL) December 13, 2006 (RFE/RL) -- Azerbaijan's independent broadcaster ANS has returned to the airwaves, almost three weeks after authorities revoked its license over alleged violations of broadcasting regulations, RFE/RL's Azerbaijani Service reported.
ANS resumed broadcasting on December 12.
The National Radio and Television Council, the body that pulled ANS off the air, says ANS will nonetheless have to bid for a broadcasting license next year.
ANS is an RFE/RL FM affiliate and is widely considered the most popular independent television and radio channel in Azerbaijan.