In one incident, nine members of one family were murdered by unidentified militants in an attack on their house in the Sunni district of southern Baghdad.
In a further attack, a well-respected Iraqi film director, Hussein al-Tikriti, was killed by unidentified militants.
Iraqi media reported that 20 Palestinians were killed in a mortar attack in a district of eastern Baghdad mainly inhabited by Palestinians. It was not clear when the incident happened.
Fifteen people have been killed and about 35 wounded in three separate car bomb attacks in eastern Baghdad.
In the deadliest, 10 people were killed when a bomb went off at a market in a mainly Shi'ite neighborhood.
Later, two car bombs targeted day laborers waiting in line for work in another area of the capital.
Today's bombings come a day after some 70 people were killed and around 230 were wounded by a pair of suicide car bomb blasts in the capital.
Meanwhile, Iraqi security officials said two suicide bombers drove their vehicles into a military base near the northern town of Riyadh, with unconfirmed reports saying at least seven soldiers were killed.
(AFP, Reuters, dpa)
On The Verge Of Civil War
On The Verge Of Civil War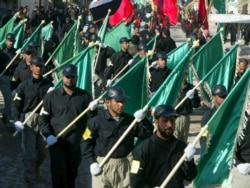 The Imam Al-Mahdi Army on parade (epa)
HAS THE CONFLICT IN IRAQ BECOME A CIVIL WAR? Many observers have concluded that the tit-for-tat sectarian violence that emerged after the February 2006 bombing of a mosque in Samarra has become a full-blown civil war.... (more)


RELATED ARTICLES
U.S. Media Starts Using 'Civil War' Label
Iraqi Prime Minister Under Fire From All Sides
U.S. Expert Discusses Prospects For Stabilization
President Says Iraq Needs Iran's Help
Saudi Arabia To Seal Off Border With Security Fence

THE COMPLETE PICTURE:
Click on the image to view RFE/RL's complete coverage of events in Iraq and that country's ongoing transition.