Bush told the highest-ranking Sunni in Iraq's unity government on December 12 that the United States was ready to help the Iraqi government "live up to its words and its ideals."
"Mr. Vice President, my message to you today and to the Iraqi people is, we want to help you," Bush said. "We want to help you be effective, we want [to help] your government live up to its words and its ideals. And I thank you for being a leader of one aspect of Iraqi society -- you're the leader of many Sunnis and you're committed to a government that is Shi'ite, Sunni, Kurdish and everybody else in your country that will help us yield peace. And I welcome you, I thank you, and praise your courage."
Al-Hashimi said he was reassured to learn that although Bush is considering a new strategy in Iraq, he is seeking a "balanced" solution. The Sunni leader said he believes that with the cooperation of Bush administration, success can be achieved "in the foreseeable future."
"During my discussion and dialogue with Mr. President, I had really a frank and positive dialogue and conversation," al-Hashimi told reporters. "We tackled key issues and hopefully at the end of the day I would like to see my comments and observations welcomed, because at the end of the day what I said to Mr. President could be seen as a genuine part [of] the way of achieving success."
Today, Bush meets with officials at the U.S. Defense Department to discuss strategy in Iraq.
On The Verge Of Civil War
On The Verge Of Civil War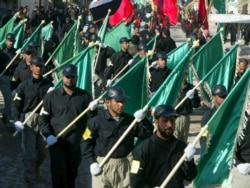 The Imam Al-Mahdi Army on parade (epa)
HAS THE CONFLICT IN IRAQ BECOME A CIVIL WAR? Many observers have concluded that the tit-for-tat sectarian violence that emerged after the February 2006 bombing of a mosque in Samarra has become a full-blown civil war.... (more)


RELATED ARTICLES
U.S. Media Starts Using 'Civil War' Label
Iraqi Prime Minister Under Fire From All Sides
U.S. Expert Discusses Prospects For Stabilization
President Says Iraq Needs Iran's Help
Saudi Arabia To Seal Off Border With Security Fence

THE COMPLETE PICTURE:
Click on the image to view RFE/RL's complete coverage of events in Iraq and that country's ongoing transition.