During a visit to Kandahar on December 12, Karzai told reporters the Pakistani state is supporting the Taliban and has been "since the very first day."
His remarks come one day after the International Crisis Group (ICG) released a report claiming that northern Pakistan has become a stronghold of Taliban and Al-Qaeda militants.
The report says Islamic militant fighters have been using the Federally Administered Tribal Areas (FATA) on the southeastern Afghanistan border since 2001 to "regroup, reorganize, and rearm" and launch cross-border attacks.
The ICG says Pakistani President Pervez Musharraf's "ambivalent" attitude to these groups is destabilizing Afghanistan.
In Washington, State Department Spokesman Sean McCormack said the Afghan and Pakistani leaders are working to solve the problem.
"Clearly you still do have cross-border infiltration, and I know that that is a concern for the Pakistanis and the Afghans," McCormack said. "President Musharraf and President Karzai had some meetings a couple months ago here at the White House and they have since tried to get together themselves and talk about different ways that they can stop that infiltration. But having safe havens and areas where these extremists can operate from is a real concern for us."
Approximately 40,000 U.S. and NATO troops are currently serving in Afghanistan.
The Afghan Insurgency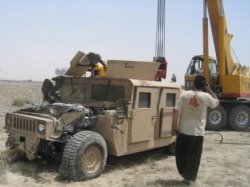 A U.S. military vehicle damaged by insurgents near Kandahar (epa)
HOMEGROWN OR IMPORTED? As attacks against Afghan and international forces continue relentlessly, RFE/RL hosted a briefing to discuss the nature of the Afghan insurgency. The discussion featured Marvin Weinbaum, professor emeritus of political science at the University of Illinois at Urbana-Champaign, and RFE/RL Afghanistan analyst Amin Tarzi.
LISTEN
Listen to the entire briefing (about 83 minutes):
Real Audio
Windows Media
ARCHIVE
RFE/RL's
coverage of Afghanistan
.
SUBSCRIBE
For weekly news and analysis on Afghanistan by e-mail,
subscribe to "RFE/RL Afghanistan Report."