The ICRC says to date, it has received no information on progress in an official investigation into the 1996 murders.
ICRC held a memorial ceremony for the six in Novye Atagi on December 17, while staff in Geneva will pay tribute to them as part of the ICRC Day of Remembrance today for all staff killed in the course of duty.
(with material from ITAR-TASS)
The Chechnya Conflict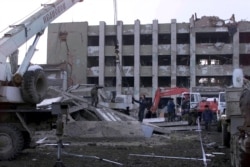 The aftermath of a December 2002 Chechen resistance attack on the main government building in Grozny (epa)


CHRONOLOGY
The
fighting in Chechnya
has raged, with short breaks, since 1994. It has brought misery, death, and destruction to the North Caucasus republic and to Russia as a whole. View an
annotated timeline
of the conflict.

ARCHIVE
RFE/RL's complete coverage of Russia's war-torn Republic of Chechnya.