Gazprom Extends Contract With Gaz De France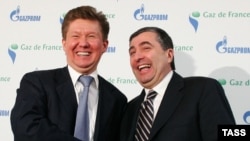 The CEO of Gazprom, Aleksei Miller (left), with the head of Gaz de France, Jean-Francois Cirelli (ITAR-TASS) December 19, 2006 -- Russia's state-controlled Gazprom company has extended its supply contract with the state-owned French company Gaz de France until 2030.
The new deal also grants Gazprom access to France's retail gas market by allowing the Russian company to sell 1.5 billion cubic meters of gas directly to final consumers previously supplied by Gaz de France.
The current contract between Gazprom and Gaz de France runs until 2012.
(AP, AFP)