Shell CEO Talks To Gazprom About Sakhalin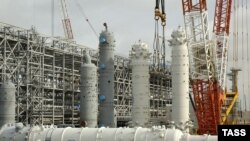 Part of the Sakhalin-2 project (file photo) (ITAR-TASS) December 15, 2006 -- The head of the British-Dutch oil company Shell is in Moscow today to discuss the participation of Russia's Gazprom in the Shell-led Sakhalin-2 natural-gas project.
It is the second time Shell's Jeroen van der Veer and Gazprom's Aleksei Miller have met in the past two weeks.
At their previous meeting last week, Shell reportedly offered Gazprom a controlling stake in the $22 billion project.
The heads of Japan's Mitsui and Mistubishi companies, Shell's partners in the project, were also in Moscow for the talks.
Russian environmental authorities have threatened the Sakhalin-2 operator with administrative sanctions, withdrawal of key permits, and environmental-damage claims in what analysts see as an attempt to improve Gazprom's bargaining position in the project.
(Reuters, Interfax)