Lavrov said Western reports about the case were filled with "questionable facts" and "information from questionable sources" and were aimed at blackening Russia's image.
Lavrov suggested such a "trend" in Western reporting on Russia was part of an effort to weaken Russia as a competitor.
Lavrov was speaking on the day that British detectives returned to London after carrying out inquiries in Moscow.
A Scotland Yard spokeswoman said the British detectives had been offered "satisfactory" cooperation from Russian officials.
The British detectives were not allowed to question witnesses themselves, but observed Russian prosecutors conduct the questioning.
(compiled from agency reports)
Aleksandr Litvinenko: A Timeline
Aleksandr Litvinenko: A Timeline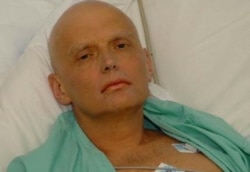 CLOAK AND DAGGER: A timeline of a murder case that unraveled after Andrei Litvinenko, a former Russian security officer and vocal Kremlin critic, dies on November 23, 2006, of poisoning by radioactive isotope polonium-210.
In a deathbed letter, Litvinenko blames Russian President Vladimir Putin for his death -- a claim Putin condemns.
Investigators center on two meetings in London that Litvinenko had described -- one in which he met with two Russians for tea in London, and another in which he met with a third Russian at a sushi bar.
Six months later, British prosecutors announce they have enough evidence to charge a Russian citizen -- one of the men who had met with Litvinenko for tea -- with the murder ...more...
MORE: Coverage in Russian from RFE/RL's Russian Service.
ARCHIVE
RFE/RL's English-language coverage of
Russia
.
SUBSCRIBE
For news and analysis on Russia by e-mail,
subscribe to "RFE/RL Russia Report."