One UN High Commissioner for Refugees (UNHCR) official in the southern Kyrgyz city of Osh told RFE/RL that some 2,000 Andijon refugees remain in Kyrgyzstan.
Uzbek refugees who fled to Kyrgyzstan have received the most attention. The UNHCR relocated hundreds to Romania and elsewhere, but hundreds remain.
Tashkent accused 15 of those refugees of being escaped prisoners or ringleaders of what it says was an attempt to overthrow the government. Earlier this year, Kyrgyzstan's Supreme Court agreed in four cases, but so far all four refugees still remain in Kyrgyzstan. Asylum was granted to the other 11.
Threat Of Forced Repatriation
Reports suggest other refugees in Kyrgyzstan have been picked up by Uzbek security agents or quietly handed over to Uzbek authorities. Relatives of Isroil Kholdarov, who was the Andijon chairman of the unregistered opposition Erk party, say he disappeared in August and has since been reported as being in Uzbek custody.
One relative, who asked that her name not be used, said Kholdarov now faces serious charges in his homeland. "His lawyer has reviewed the criminal case against him, and it seems he is accused of violating Article 57 of the Uzbek Criminal Code -- terrorism," she said. "Under the law, if he is found guilty, he could have his property confiscated, he could be put in prison for 15 to 25 years, or he could get the death penalty."
Kyrgyzstan is not the only country to have repatriated Andijon refugees.
Ukrainian authorities detained 11 Uzbek refugees in the Crimea and returned them to Uzbekistan. A Foreign Ministry spokesman countered fierce international criticism of Kyiv by saying the 11 had been engaged in illegal activities while in Ukraine.
In Russia, a decision to extradite Rustam Muminov was overturned by a Moscow city court in early November, but that verdict came after Russian authorities had already handed him over.
Returning Voluntarily?
Some refugees voluntarily returned to Uzbekistan in 2006. Roughly one-third of the 150 or so Andijon refugees who had resettled in the United States returned in midyear, taking up an offer of amnesty from the Uzbek government.
Tashkent has tried to use those returnees to demonstrate that life in Uzbekistan has returned to normal. They've appeared on television, and the government is currently making a film about them.
But one returnee offered a glimpse into his new life: "Since we returned, we have to go once a week to the police [station] and explain the situation [and] how our family is doing."
Some observers suggest the return of those refugees had less to do with homesickness or patriotism and more to do with pressure being placed on relatives who remained behind in Uzbekistan.
The majority of the 400 Andijon refugees the UNHCR helped resettle remain in Europe and North America.
One man, who fears retaliation against his relatives in Uzbekistan, told RFE/RL that life in Germany is good. He said his children and son-in-law are adjusting to life in their new home, have found work, and are learning German. But he added that he misses his home and would consider going back if conditions changed.
Uncertainty In Kyrgyzstan
Back in Central Asia, the lives of some Andijon refugees in Kyrgyzstan were shuffled once again over the summer, when refugee disappearances led the UNHCR and Kyrgyz agencies to relocate them farther from the Uzbek border. The move to areas around the capital, Bishkek, however, means they are less likely to find family or fellow Uzbeks, who are more populous in the southern Osh and Jalal-Abad regions.
Reduced fear of being spirited away to Uzbekistan does not translate into jobs, however, or long-term housing.
The UNHCR representative in Bishkek, Carlos Zaccagnini, said many Andijon refugees remain in Kyrgyzstan without any legal status.
"There are Uzbek nationals that are in the Kyrgyz Republic without registering as asylum seekers or refugees. And since [the] May events of last year, it would be very hard to determine how many did come across that haven't registered, how many stayed, [or] how many may have left but returned," Zaccagnini said.
"You should recall that the borders between these two countries are open in the south, and there is a regular influx of Uzbek citizens into the Kyrgyz Republic," he added. "So on that account, it is literally impossible to determine how many would have come into Kyrgyzstan seeking asylum but actually not registering with either ourselves or the [Kyrgyz] state [authorities]."
Zaccagnini said it is impossible to say how many Uzbek nationals are living in Kyrgyzstan illegally. He noted that media estimates "have gone into the thousands, others into the hundreds. So it is very hard to determine. But I would say that they are definitely above 100."
Though they may have escaped Uzbek repression, those refugees still face one of their most difficult challenges -- finding any means possible, including begging, to earn a living in an area where unemployment is high, and growing, among legal residents.
(Uktambek Karimov and Shukrat Bobojonov of RFE/RL's Uzbek Service contributed to this report.)
Andijon Refugees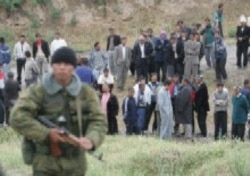 Uzbek refugees in Kyrgyzstan on May 19, 2005 (epa)


NO PLACE TO GO: More than 400 Uzbeks who fled in panic in the hours and days after troops opened fire on demonstrators in Andijon one year ago have been granted political asylum outside Central Asia. In limbo for weeks in Kyrgyzstan as they and the world tried to come to grips with the bloody events of May 12 and 13, they feared for their lives and the lives of family members as the official crackdown continued.... (more)
RELATED ARTICLES
Andijon Refugees In Romania Have Escaped Violence, But Not Heartache
Refugees In Romania Await Decision On Destination
Refugees Want To Return Only If Regime Changes


THE COMPLETE STORY: A dedicated webpage bringing together all of RFE/RL's coverage of the events in Andijon, Uzbekistan, in May 2005 and their continuing repercussions.
CHRONOLOGY
For an annotated timeline of the Andijon events and their repercussions, click here.